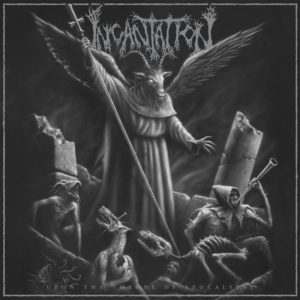 This is a reissue of 1995's release that Relapse Records hails us now. "Upon the Throne of Apocalypse" is the third Incantation's album and it deepens the band's intent of making a doomy Death Metal with funereal vocals and anti-Christian lyrics. So far Incantation have released ten full-length records, two live records, four EPs, two singles, three splits, one DVD, and three demos and has very loyal fandom that supports the thirty-year-old band.
"Upon the Throne of Apocalypse" has eight tracks that deepen the band's early intent of making a very infamous music with some of the most degrading and funereal vocals I've ever heard. Incantation are one of the bands which started the so-called cavernous Death Metal which is a mix of the gloomy slow and vociferated vocals with a Heavy Metal based instrumental. There are times that the cadence gets a bit slow and tranquil, but make no mistake, Incantation's intention isn't to let it so. In a sudden the cadence gets faster and the vocals make no mistake.
Extreme Metal means to me a surprise in every album I review. In those three years of reviewing albums here at Metal Addicts I discovered a fantastic world of bands that I would never imagine to exist. Each one giving its contribution to the Metal world and making it bigger and bigger. Though I'm not the biggest fan of the band, I must give them the biggest hail I can for the splendid career keeping the Metal flame and proud high. It's not easy for a Metal career last so long.
This album "Upon the Throne of Apocalypse" is dedicate for die-hard Extreme Metal fans, and of course, for those as me praise Metal above all things.
Incantation "Upon the Throne of Apocalypse" reissue was released on April 19th via Relapse Records.
Track Listing:
Abolishment of Immaculate Serenity
Blissful Bloodshower
The Ibex Moon
Nocturnal Dominion
Essence Ablaze
Iconoclasm of Catholicism
Imaciated Holy Figure
Demonic Encarnate
Watch "The Ibex Moon" official remastered video here: