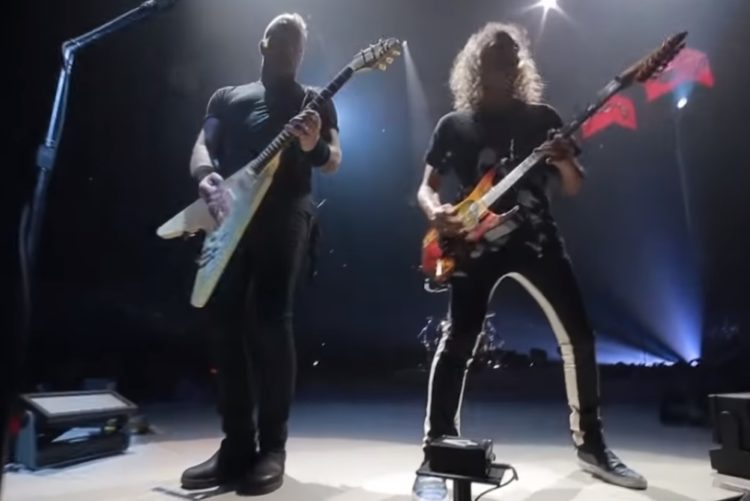 As reported via Ultimate Guitar.
This Wednesday (May 1) in Lisbon, Metallica kicked off its European run of the ongoing Worldwired Tour, performing an 18-song set in the capital of Portugal.
Apart from the classics, the group spiced the setlist up with several deeper cuts. These included the first performance of "Frantic" – originally released on 2003's "St. Anger" – since December 2011, as well as the live debut of the final studio version of "Lords of Summer" during the encore.
Elsewhere in the set, the band performed 1991's "The God That Failed" for the first time since June 2012. They also played 1986's "Disposable Heroes" for the first time on the ongoing tour, which began back in 2016.
A JamBase report branded the performance of "Welcome Home (Sanitarium)" "a highlight of the night," during which the guys "continued their tradition of a nightly open-ended collaboration, with last night's edition featuring a cover of 'Censurados, Xutos & Pontapés' as well as originals 'ManUNkind' and 'Orion.'"
Fan-filmed footage from the concert was quick to surface online, you can check out the deeper cuts and rarities in the embedded players below, along with the night's full setlist. For more Metallica live dates, check the official site.
Metallica Lisbon, Portugal 2019 setlist:
0. The Ecstasy of Gold + Hardwired Intro
1. Hardwired
2. Disposable Heroes
3. Ride the Lightning
4. The God That Failed
5. The Unforgiven
6. Here Comes Revenge
7. Moth Into Flame
8. Sad But True
9. Welcome Home (Sanitarium)
10. Frantic
11. One
12. Master of Puppets
13. For Whom the Bell Tolls
14. Creeping Death
15. Seek & Destroy
Encore:
16. Lords of Summer
17. Nothing Else Matters
18. Enter Sandman