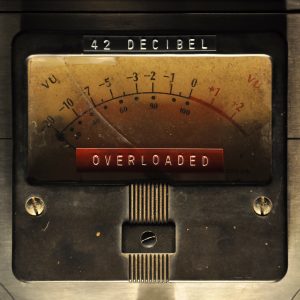 I really don't know if the guys from 42 Decibel have ever seen a VU meter like the one it's in the cover art of their "Overloaded" album. I't's too old for them. I, otherwise, do remember! And I tell you, it represents very well the spirit of 42 Decibel and "Overloaded". Pure 1970s stuff! With a touch of Bon Scott's AC/DC. Songs like 'Half Way Dead' show that 42 Decibel got all the sound spirit from the late 1970s. 'Half Way Dead', for instance, is dirty, hard, and with a punkish chorus. Everything you expect from a band that desires to sound like 1970. And soon after comes 'Lost Case', full of slides and drives. I guess Bon Scott would've written the lyrics.
AC/DC was an easy guess about their influences, but 'Cause Damage' shows hat 42 Decibel have heard much more. I mean the great, and unfortunatelly forgotten Nazareth. 'Cause Damage' sure drinks on the fountains of "Hair Of The Dog" and "Razamanaz". It's a pitty that kids today don't listen to the forefathers of Metal. I mean, it's not only Black Sabbath and Led Zeppelin. There's much more. Please guys, do some more serius digging! You won't regret! I'm sure the guys from 42 Decibel did. Not only for the music, but for the equipment. I know there are amps today that can emulate any particular sound, but I don't know if they can do it the way we hear in 42 Decibel's "Overloaded". The overdrives and slides are too perfect to have been emulated. They must have used real deal amps. If you want a little more modern reference, 'Brawler' sounds a bit like Guns'n'Roses.
42 Decibel's "Overloaded" sure is worth some listening. Go into it with open ears and an open mind. There will be no regrets I guarantee you. Bon Scott would love them.
Whiskey Joint
Dangerous Mess
Brawler
Roadkiller
Hot Shot
Half Face Dead
Lost Case
Cause Damage
Double Itch Blues
Cannon Fodder
Take a look at them here watching "Dangerous Mess":