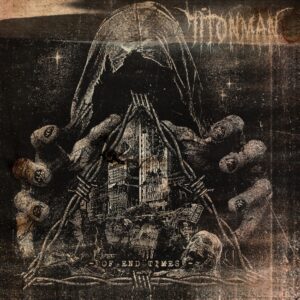 Some bands really know how to create that horror and despair mood in their albums. A good comparison that my dear child of the night will understand is that 71TONMAN "End of Times" is like Dante's Inferno even though the four tracks are named inspired after the Four Horsemen; as it goes "Conquest," "Plague," "War," and "Famine." One just has to chance "Conquest" for "Death" and there it is. Maybe it doesn't have to be so literal after all. I guess the band got their album inspiration on a slow death with lots of torture as a drop of water drip onto someone's head little by little. That's the idea the slow death guitars and drumming pass the fan. Nonstop. It's always possible to add to that someone slowly reciting all the evil deeds this ones did for all over life. Nonstop. Considering all the evil deeds this may take a while depending on the person. I have a few choices.
The idea 71TONMAN developed to "End of Times" is to be as monolithical as possible. The album contains more than 40 minutes divided into 4 tracks which seem to be only one. Again what I said about being thought to be as a nonstop torture that goes hammering the fans' mind little by little until the brain is washed and smashed into a plastic green goo. Why green if the brain is gray? Well, it was turned into green by the powers of evil that 71TONMAN commanded in all 40 minutes of 4 tracks. "End of Times" is the Doom Metal that really stretched this idea. It's possible to feel the hammering into one's mind while listening to it.
Nonetheless, the seven layers of hell are already there, "End of Times" prepares the trip for whom dares to listen to it all. Demons' forces and malevolent beings follow all the steps into the fan's mind to be lost for all eternity into darkness and below. I guess not the devil himself would be able to write an album like this. Hey, wait. No, he would. And he did. The name is "End of Times."
71TONMAN "End of Times" will be released on March 03rd via Transcending Obscurity Records.
Track Listing:
Conquest
Plague
War
Famine
Watch "Plague" official music video here: