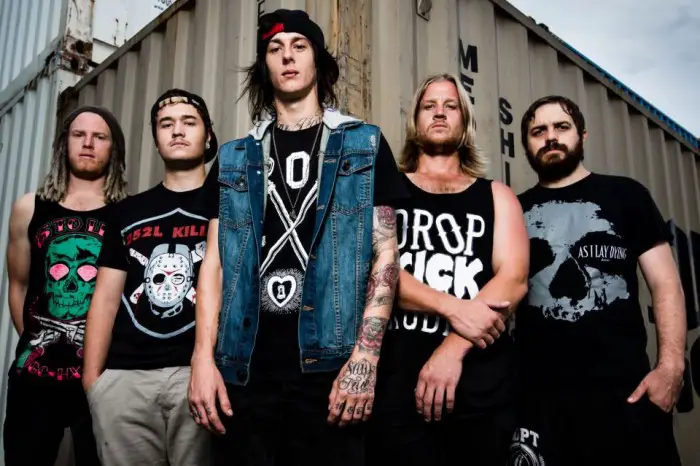 Australian powercore-metal pioneers A BREACH OF SILENCE have just completed tracking their third full-length album with legendary music producers, Fredrik Nordstrom and Henrik Udd (BRING ME TO HORIZON, IN FLAMES, ARCH ENEMY, OPETH).
Guitarist Cossie says: "We approached this album differently than the last two albums Freddy and Henrik did for us. They flew down here to meet up with us the day after Christmas, and over the next twenty days we tracked the album. Drums were done at Core Studios in Gold Coast, guitars were tracked on a farm in Roma, and vocals were done at Cosgrove Manor in Brisbane. Afterwards, they brought the stems back to Studio Fredman in Gothenburg, Sweden where they have been sending us various mixes of the album on a consistent basis."
Vocalist Rhys Flannery continues: "We're really proud of what we've created here. It's different than our previous album "The Darkest Road". Blair and I are doing lots of vocal harmonies, there's a lot more stuff people can sing along with. It's still heavy as hell, just much more diverse than our previous album."
"The Darkest Road" debuted on the iTunes metal chart at #1 in Australia, and at #20 on AIRA's 100% Independent chart. Dozens of music blogs and media publications placed it in their Best of 2014 lists too.
He continues: "We did well on our last album, and set the bar for success pretty high, so we've got to top that this time around. The support and encouragement from our fans was a great source of inspiration throughout the song-writing process. In return, we knew we would have to give them something that connects with their hearts and souls, not just their ears. I think we've done that here – although we still have to come up with a name for it!"
The unnamed new album will contain thirteen songs, and Eclipse Records plans to release it before the end of 2016.