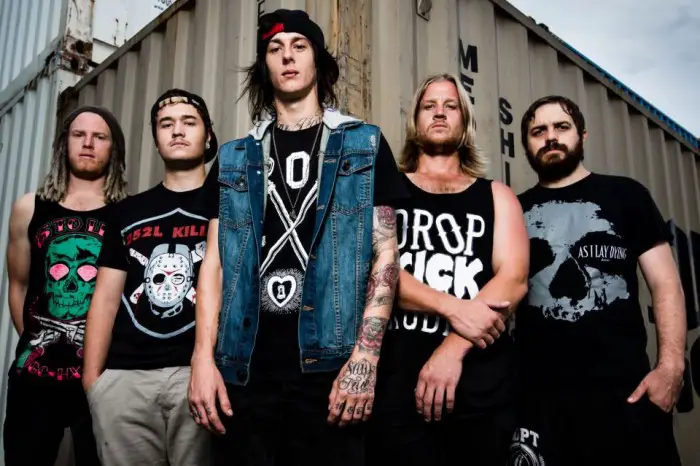 Award-winning powercore metal pioneers A BREACH OF SILENCE has revealed the cover artwork, track listing, and details for their third studio album, "Secrets". The album was produced by Fredrik Nordstrom (Bring Me the Horizon, Arch Enemy, In Flames) and mixed by Henrik Udd at Studio Fredman. It will be released worldwide via Eclipse Records on February 24, 2017.
"This album was approached differently than the last two albums Freddy and Henrik did for us" says guitarist Cossie. "They flew down here to meet up with us the day after Christmas of 2015, and over the next twenty days we tracked the entire album here in Australia. Afterwards, they brought the stems back to Studio Fredman in Gothenburg, Sweden. Over the next three months, they were consistently sending us various mixes of the album for us to check out. Once the album was done, the staff at Eclipse Records began getting familiar with the material and we started talking about possible singles for the album. By June of 2016, we all had a game plan in place and began shooting videos for the first three singles."
Confirmed song titles are as follows: Falling Away, Ride or Die, Undefeated, Secrets, Nightcrawler, Fair Weather Friends, Buzz Killington, The Revelator, A Better Place, Broken, Shameless (cover of The Weeknd), Dethroned, Sugar and Spice.
The band's previous album "The Darkest Road" debuted on the iTunes metal chart at #1 in Australia, and at #20 on AIRA's 100% Independent chart. Dozens of music blogs and media publications placed it in their Best of 2014 lists too. "We did well on our last album" states vocalist Rhys Flannery, "and we set the bar for success pretty high, so we've got to top that this time around. Secrets is different than our previous album. Blair and I are doing lots of vocal harmonies, there's a lot more stuff people can sing along with, and while it's still heavy as hell, the songs are much more diverse. We're really proud of what we've created here."
"Secrets" is already available for pre-order via iTunes and Amazon. Either option comes with the songs "Falling Away", "Secrets", and "Nightcrawler" as instant grat tracks! The album is also available via Google Play. Additional options and information will be available soon.