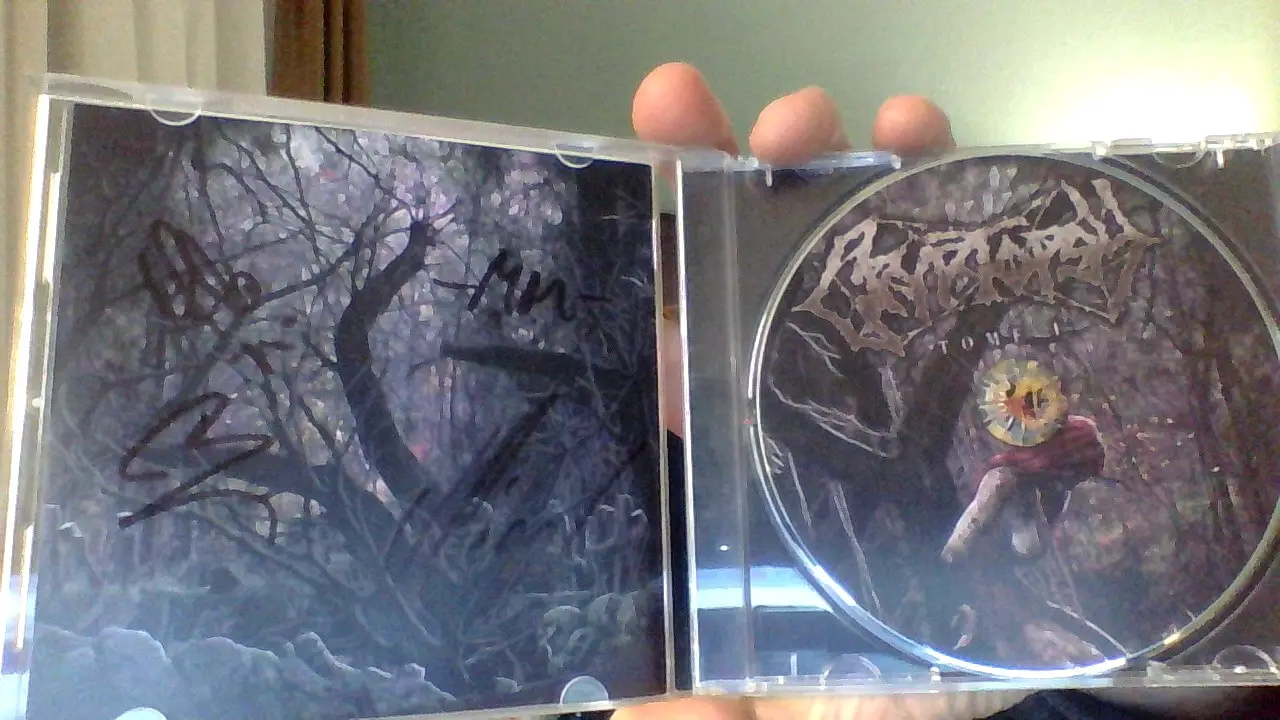 A few months back some publicist hits us up asking if we would like to interview a Canadian band named CRYPTOPSY. None of my colleagues knew who they were but I did. I think they been kickin hard since 92'ish. As far as I know Flo Mounier is the only Original member.
So, I get back in to this band and start studying the new sh*t I haven't heard yet. I hit them up for an interview and guitarist Chris Donaldson granted me one. We talked about everything from beer to the difference between label  and indie and what it means to the artists. That Interview can be seen here.
A couple of months go by and I find out that they will be opening for CANNIBAL CORPSE and OBITUARY in Atlanta Georgia on a Friday night and I see this as game on for a live interview. I took to facebook begging for a ride to the show and asking the band for an interview and came up empty handed on the ride. The band directed me to their official webpage to apply, but there was no point if I couldn't get to the venue.
Feeling so let down on so many levels, I just f*cking gave up and quit trying. The more I tried the more dead ends I faced. To top it all off we ended up having to work the day after the show at my day job. I still wanted to go pretty f*cking bad.
The day before the show my boss and I headed north of Atlanta for a two day job. We had already decided to stay over night cause it wasn't worth driving that far back home. We would have driven more hours than we actually got to work. On the Interstate every van I saw with a trailer behind it heading toward Atlanta made me wonder if it was one of the bands that I wasn't going to get to see and felt quite bitter at the sh*tty turn of events that made me miss the show.
We worked our a—ses off until well after dark before looking for a motel. Sitting in the parking lot of the Holiday Inn Express in Winder Georgia about to get our sh*t together and get checked in, I look over and see a white van with salt all over it pulling a Uhaul pull behind roll up. I say to my boss "Look at that sh*t dude. I wonder how far they had to drive to get here." Right then a guy gets out and checks the trailer connection. I said "Damn. That looks like Chris Donaldson." My boss said "Who?" and as I was explaining I spotted Flo Mounier, Matt  McGachy, and Olivier Pinard walking to the back of the trailer. I said "It's them" and got out of the truck. My boss said "Bull sh*t! If it's not, don't get us in a fight. There's four of them and two of us."
Walking up still not believing my eyes I asked "Are you Christian Donaldson?" Chris said "The beard gave it away huh?" I said "Yeah, that and the tats." I am not sure what all I said after that but I bet "HOLY F*CK" came out at least 4 times. They said that they had driven 24 strait hours but still stood around and bullsh*tted with me for a few minutes. I asked if they would sign something for me and asked if they had any copies of the new EP Tome 1 for sale. Flo got one out of the van and they all signed it for me. As Matt was signing he said "This is the first copy of this that I have signed." I found out later that it was the first hardcopy that any of them had signed.
I tried to pay them for it but they refused. I told them thank you and said I'd let them go get some rest because to be honest, I needed some too. I missed having breakfast with them by minutes the next morning. Me and my boss just got up a few minutes too early. On our way out the door I spotted them eating and threw Olivier a horns up and he threw me one back.
I guess the moral of this little story is there is a God and he knows that I love metal. I mean, damn dude, what are the f*cking odds of sh*t like that just randomly happening to an old redneck metalhead like me? I think I'm gonna start playing the f*cking lotto…
As of right now that CD has, and will be only spun once to listen to and rip to my comp. I might not have gotten what I wanted but something somewhere in this universe let me take care of business and let me meet and hangout with some very cool motherf*ckers that I had given up on getting to see live. Well, that was live enough for me and I got the very first ever signed hardcopy of Tome 1 which is f*cking amazing. I'd suggest that you buy it and they have like 34 or 35 more shows on this tour. I'd suggest you go see them if you get the chance. I thought I had missed mine, but I didn't.
This is the first track on Tome 1
You can purchase Tome 1 via the band's official Bandcamp page here. Look for them on tour in North America with CANNIBAL CORPSE and OBITUARY coming to a city near you with malice and force.
They are also offering lessons when they come to your city.