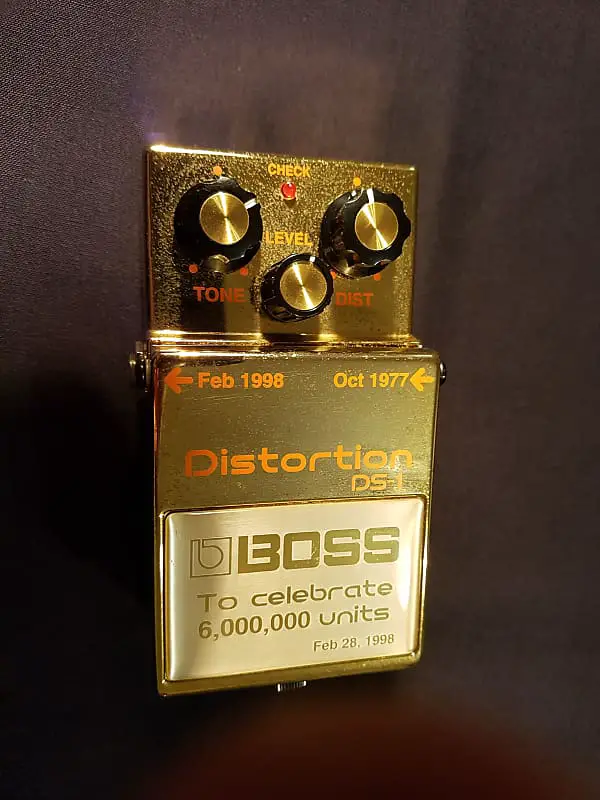 As reported by Ultimate Guitar, a very special edition of the famous golden Boss DS-1, to be more precise the six millionth, is on sale at Reverb. This pedal was released on February 28, 1998 to celebrate the six million units sold all over the world.
The seller has the word:
"I bought this pedal some years ago from a guy, without knowing what a special item this pedal is. Only recently I came about to find that this pedal is a special collector sought after one."
The rare piece specs:
"This super-special-version DS-1 has a visual impact, with a dazzling gold finish. This commemorative model celebrates the achievement of six million Boss compact effects shipped worldwide and was produced in a special limited edition in February 1998.

"Among ordinary users, there's probably no one who has actually seen the real article. That's as it should be because this DS-1 is the rarest of the rare, and was only presented to overseas joint venture firms, in honor of their great contribution to BOSS sales.

"In general, replicas of this model often lack the function of the original, but the insides of this DS-1 are exactly the same as the original. In other words, if you plug in a guitar, it'll give you distortion. The inscriptions on the input and output jack also enhance the box's elegance."
Right now the top bid is $ 7,054.71. Follow the bidding at Reverb.