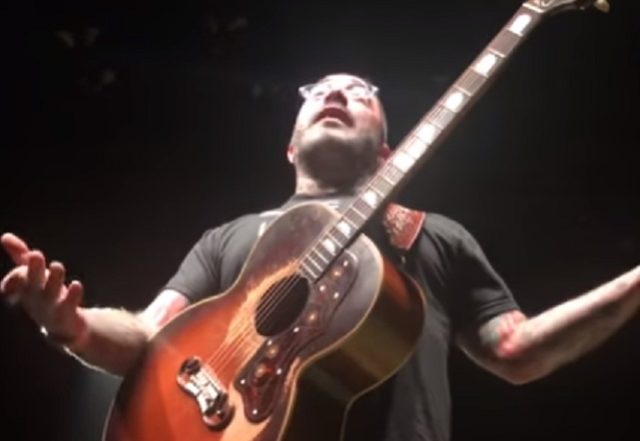 STAIND's Aaron Lewis ended his solo concert early on Saturday night, March 9 in Oklahoma after the crowd refused his plea for a brief moment of silence.
While performing at The Criterion in Oklahoma City, Lewis asked the audience to stay quiet so that he could perform a completely unplugged version of the STAIND song "Intro," which crowd refused.
Lewis got a bit exasperated and returned to the mic. He said: "Listen, if you don't shut the f*ck up, you can't even hear the guitar.
"So shut up. I've got three more f*cking minutes — three. Can you please for once…? Through the whole f*cking evening, you guys have talked all f*cking night. Shut the f*ck up or I'm done."
Lewis then went back to the front of the stage, acoustic guitar in hand, and began strumming the song's first chords while continuing to talk to the crowd.
"It's so f*cking ironic that this f*cking song is a 'thank you,' and I can't get you to shut the f*ck up to hear it," he said.
Lewis, still unable to quiet the crowd, went on to sing the first two lines of "Intro" before stopping, putting his guitar down and walking off stage while flicking his cup in frustration.
Video footage of the incident can be seen below (courtesy of YouTube user "Justin Hunter").
In February, Aaron walked off stage in Pharr, Texas when he was unsuccessful in convicining the crowd to stop the chatter while he was performing acoustic song without a mic.