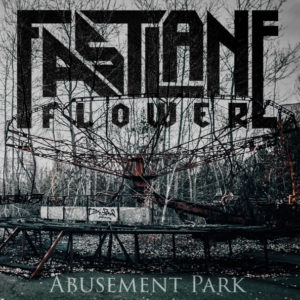 Here's a band to watch carefully. Abusement Park with "Fastlane Flower" come with some different musical intent. At first they strike with a female vocalist that are beyond symphonic Metal vocalists. The girl, besides her vocal abilities, add some pop grip to their song. But not that pop, a heavy pop like Cranberries Dolores O'Brien. Sometimes she makes me remind the wonderful Blondie's Debbie Harry. As you may have noticed, it is a big deal.
Abusement Park, besides their creative and insolent moniker, are also a band that stresses their vocalist properly. They bounce from Modern to Symphonic Metal  very easily. Always with a strong guitar accent. Second track "6.20" as a very example of it. But Abusement Park can surprise you with songs like "Ghostpain" which starts with a very heavy guitar riff to then take a more modern Metal vibe. Of course, embellished by the wonderful voice of their vocalist, whose name I couldn't get. Listen to the surprising keyboard tone and the guitar solo within it.
I guess there is no wonder in saying that I appreciate a lot female vocalists. Their voices give a very interesting contrast in songs. What else can I say of a vocalist that is so resourceful? The girl teaches a lesson. It's such a pity I couldn't get her name. Ah, got it! She's Eline Weidemann Stelan.
Another highlight to Abusement Park are the lyrics. What to say about a song called "Simsalabim"? Pretty unusual, don't you think? At least it brings something to laugh about. This world is getting too serious. Well, on second thought, how would it be in an Abusement Park? I shiver only to think about it.
Abusement Park are a band with lots of personality. That's really a big thing these days.
Track Listing:
Simsalabim
6.20
Trisomy
Showdown
Ghostpain
Adrenaline
The Last 14 days
Timeline
Watch "Timeline" official video here:
https://youtu.be/AE-41grCB-w