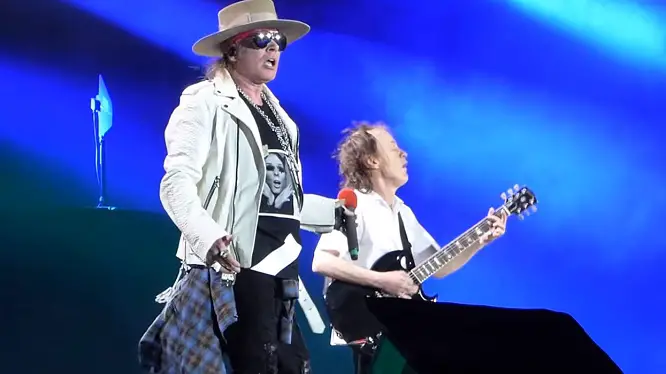 During a conversation with Mastering Music Mastering Life, AC/DC engineer Mike Fraser – also known for his work with METALLICA, Joe Satriani and more – talked about Axl Rose's tenure in the band.
When asked for his take on Axl/DC, Fraser replied:
Well, I get it, they had commitments to finish a tour and you know, Angus [Young] and the rest of AC/DC thought Axl was the one. As a fan, I don't like that choice, but I get it.

"I think Axl did an amazing job, you know, especially with some of the older stuff that they don't usually do, and Axl's got that higher range. To me, though, it kind of tarnished – in my opinion – the AC/DC name.

"To me, that wasn't AC/DC. It was just a band going through the motions and AC/DC's never been that band. So, yeah. But that's what Angus wanted, to keep going, not disappoint people and that's what this band's always been about – the fans. So, I respect that decision."
AC/DC's longtime engineer Mike Fraser has confirmed the rumors that the band is in the studio.
Asked by Tony Mantz if the rumors are true and that another AC/DC album is under construction, Mike replied:
"Umm… Well, yeah, I could say that we've been in the studio doing something. What's come of that I can't discuss yet, but uh…"
When asked if Brian Johnson is singing, he answered:
"I think so. [Laughs]"
Back in January, TERRORIZER — which features in its ranks former MORBID ANGEL drummer Pete Sandoval — took to its Facebook page to recap the group's just-completed European tour. After praising the other bands on the trek and thanking its road crew, TERRORIZER wrote:
"We ran into Brian Johnson from AC/DC at the airport today after the flight home and we asked him about the rumors of him being on the new AC/DC album and he said 'yes' and that he is 'sick of denying it.' So that was a cool surprise ending to the tour."
In August, Brian Johnson and drummer Phil Rudd were photographed at the Warehouse Studios in Vancouver – the same location where their previous three records were made.