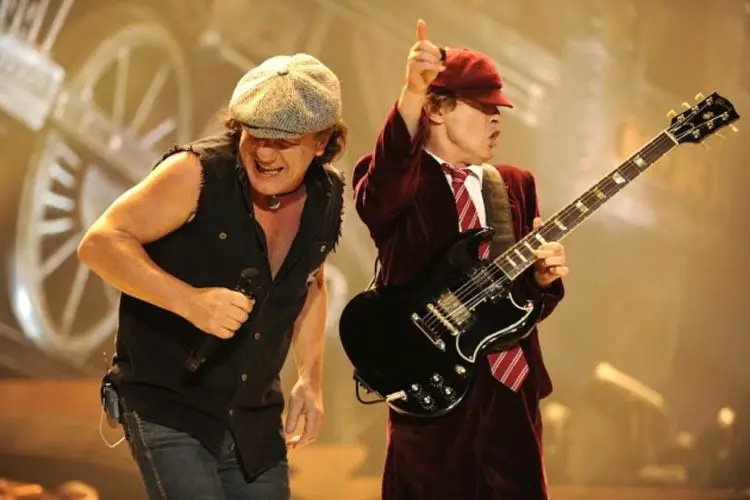 AC/DC has apparently posted several photos on their official website from what appears to be band's new video. Photos were later removed.
AC/DC fan site AC/DC Brasil posted photos of reunited band with singer Brian Johnson joined by drummer Phil Rudd, bassist Cliff Williams and guitarists Angus and Stevie Young. See photos below.
AC/DC is rumored to have reunited for a new album.
TWISTED SISTER frontman Dee Snider said in a recent interview on 95.5 KLOS radio station that AC/DC will likely embark on stadium tour along with new album release.
Asked when fans will finally get a chance to hear new music from AC/DC, Snider said: "I think that everybody — and you've seen this with the movie industry; you've seen this across the board — not everybody, but a lot of people have said, 'Let's just put a hold on everything until everything until things settle down a little.'
He continued: "I think they're planning on a tour to go with the new record, and I know they're spoiled old brats like me — they don't wanna do it online or something. They know they're gonna be playing stadiums on this tour."
In July, Snider again spoke about AC/DC's much-anticipated new album, saying it already "has been recorded" but had to be "delayed" because of the COVID-19 pandemic.
"I haven't heard anything, but… it's AC/DC, man. You can't go wrong! Four chords and a dream, baby! That's it!," Snider told ABC Audio.
He also addressed his previous comments that the album will be dedicated to band's late rhythm guitarist Malcolm Young: "This is gonna be a miracle of technology. What will be achieved, the reuniting of the band that we know for one more album, is gonna to be uplifting and heartbreaking at the same time. Because nothing goes on forever. But this is the ultimate 'one more time.'"