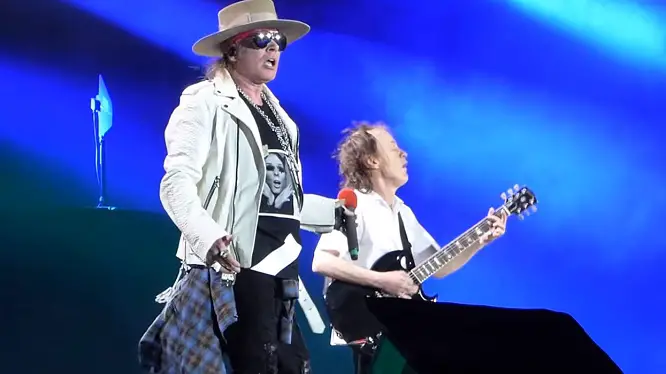 According to 'The Straight' a Vancouver publication (via GNRCentral), a fan claims to have met members of AC/DC in the Canadian City. In the past AC/DC has typically recorded some of their albums in Vancouver. Also the article says that Chris Slade is no longer the drummer, but Phil Rudd is now involved again behind the kit.
According to the article:
Just scored an interesting news tip from one of my rock 'n' roll sources on the street.

The guy tells me that he had a quick chat with a couple of members of AC/DC in downtown Vancouver this morning. One of the rockers that he talked to was Stevie Young, Angus Young's nephew, who took over the rhythm-guitar spot in AC/DC from Angus's brother Malcolm in 2014 when Mal started suffering from the health problems, including dementia, that he would succumb to last November.

I'd like to announce that the other rocker my source chatted with briefly today was Axl Rose, the Guns N' Roses frontman who took over the lead-vocals position from Brian Johnson on AC/DC's last tour when Johnson started suffering hearing problems.

I can't announce that, though, because the other rocker my source talked to was none other than, get this: Phil Rudd! Yes, Phil Rudd, the longtime AC/DC drummer who was himself replaced behind the kit by Chris "Thunderstruck" Slade in 2015 for the band's Rock or Bust World Tour. (In 2014 Rudd had been charged with various crimes, including "attempting to procure a murder", although that charge was quickly dropped.)

Maybe it's just a coincidence that Rudd and the younger Young were spotted today in the city where AC/DC recorded its last three albums. Maybe they just travelled over from Australia for a little vacay or something.

But it's also possible that they were laying down tracks for the next AC/DC album at the same location (Gastown's Warehouse Studio) with the same engineer-mixer (Langley's Mike Fraser) as the last three times.