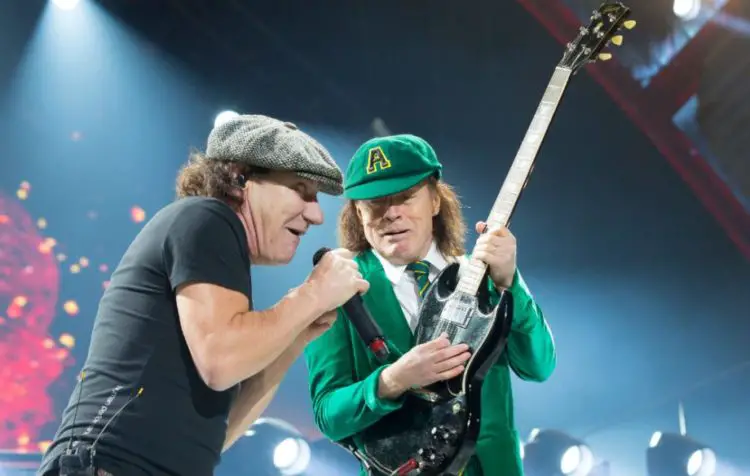 AC/DC will be headlining North American festivals next year which will also mark return of singer Brian Johnson to the group.
He said in a social media post: "METALLICA will be headlining all DWP festivals in 2020 including: Sonic Temple, Louder Than Life, Welcome To Rockville, Epicenter, and Aftershock. This includes a new sponsor for all the festivals, Blackened Whisky.
"SLIPKNOT is rumored to be performing at all of these festivals as well but doing a very special double set. One set of fan favorites while the other set will feature the entire new album, We Are Not Your Kind played in full."
The final headliner for 1 or 2 of these festivals will be none other than AC/DC featuring the return of Brian Johnson on vocals as a part of a full 2020 world tour.
We also expect to see JUDAS PRIEST on several lineups as they celebrate the bands 50th anniversary and have 2 North American runs set for 2020.
Back in January, TERRORIZER — which features in its ranks former MORBID ANGEL drummer Pete Sandoval — took to its Facebook page to recap the group's just-completed European tour. After praising the other bands on the trek and thanking its road crew, TERRORIZER wrote:
"We ran into Brian Johnson from AC/DC at the airport today after the flight home and we asked him about the rumors of him being on the new AC/DC album and he said 'yes' and that he is 'sick of denying it.' So that was a cool surprise ending to the tour."
In August, Brian Johnson and drummer Phil Rudd were photographed at the Warehouse Studios in Vancouver – the same location where their previous three records were made.
Also, Eddie Trunk has said on his recent show that "reliable sources" have told him that AC/DC is gearing up to tour again with Brian Johnson on vocals. He also said that the new AC/DC album will be a tribute to late guitarist Malcolm Young.
He said: "I have sources that told me they are absolutely going to tour with Brian back again. So, that is all unconfirmed from their camp, but I had it with some reliable sources.
"I think it's pretty much a done deal that AC/DC, at the very least, are going to release some sort of record, and it will be a tribute to Malcolm [Young], like Back in Black was a tribute to Bon [Scott]."