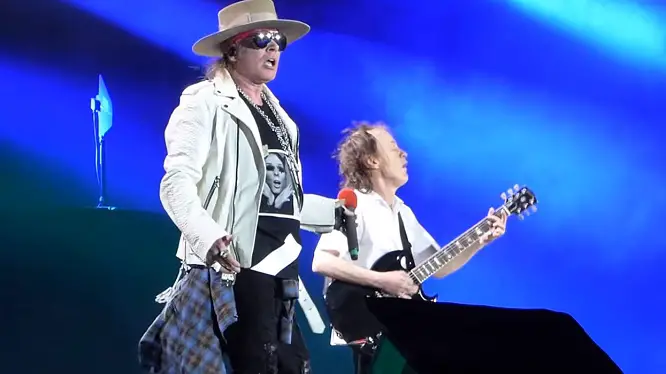 One of Australia's most respected music writers, Murray Engleheart, reported that AC/DC will continue with Axl Rose.
Engleheart wrote: "Speculate all you want but I've said it before and I'll say it again: AC/DC will continue with Axl on vocals – new album, touring, the whole nine yards. What was a massive gamble by Angus [Young] turned out to be an equally enormous triumph that has set the scene for the future."
He wrote the books AC/DC Maximum Rock and Roll: The Ultimate Story of the World's Greatest Rock and Roll Band in 2006 and Blood, Sweat and Beers: Oz Rock from the Aztecs to Rose Tattoo in 2010.
On 8 July 2016, Cliff Williams indicated he was retiring from the band in an interview with Gulfshore Life, saying "It's been what I've known for the past 40 years, but after this tour I'm backing off of touring and recording. Losing Malcolm [Young], the thing with Phil and now with Brian, it's a changed animal. I feel in my gut it's the right thing." At the end of the Rock or Bust Tour he released a video statement confirming his retirement.
Malcolm Young died on 18 November 2017 at the age of 64, at Lulworth House in Elizabeth Bay. His funeral was held at St Mary's Cathedral, Sydney on 28 November. Young's elder brother George Young died a few weeks before him, on 22 October 2017.