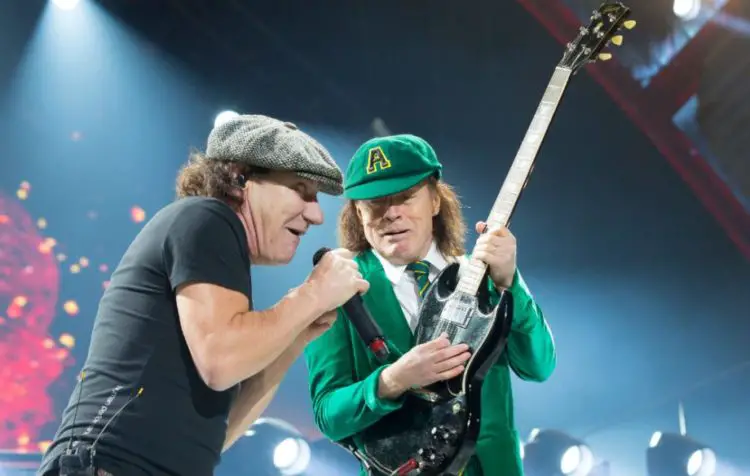 During a recent episode of a radio podcast, Big Jim's House, the host has shared some interesting new details about possible AC/DC tour for next year.
"THE STRUTS, so we've heard rumors for months that AC/DC was kind of reuniting," host said (as transcribed by Alternative Nation.)
"We had those pictures surface of Brian Johnson hanging in a studio, Phil Rudd and Cliff Williams, there were all these rumors, all these rumors. So The Struts are on tour, and they went into a radio station."
The guest of the podcast said: "But AC/DC as well, and I heard they're going on tour next year. Wouldn't it be great if they come here and we get to open up for them? Actually, I'm projecting that. I'm going to put that out into the universe, and start that."
"I did some research, and AC/DC's label and this band's label, they work together, so there might be some validity," host added.
Back in January, TERRORIZER — which features in its ranks former MORBID ANGEL drummer Pete Sandoval — took to its Facebook page to recap the group's just-completed European tour. After praising the other bands on the trek and thanking its road crew, TERRORIZER wrote:
"We ran into Brian Johnson from AC/DC at the airport today after the flight home and we asked him about the rumors of him being on the new AC/DC album and he said 'yes' and that he is 'sick of denying it.' So that was a cool surprise ending to the tour."
In August, Brian Johnson and drummer Phil Rudd were photographed at the Warehouse Studios in Vancouver – the same location where their previous three records were made.
Also, Eddie Trunk has said on his recent show that "reliable sources" have told him that AC/DC is gearing up to tour again with Brian Johnson on vocals. He also said that the new AC/DC album will be a tribute to late guitarist Malcolm Young.
He said: "I have sources that told me they are absolutely going to tour with Brian back again. So, that is all unconfirmed from their camp, but I had it with some reliable sources.
"I think it's pretty much a done deal that AC/DC, at the very least, are going to release some sort of record, and it will be a tribute to Malcolm [Young], like Back in Black was a tribute to Bon [Scott]."