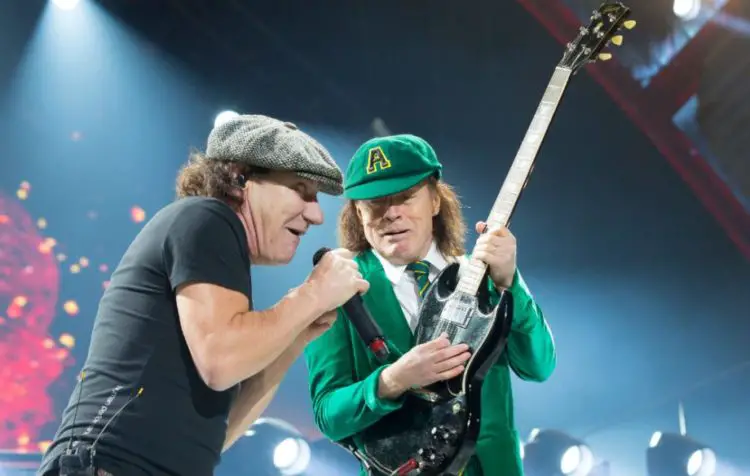 Hey-Alex.FR website are reporting that AC/DC show in France could be in the works for 2020, and that a late 2019 (November/December) new album release is rumored.
"Many clues prove the return of AC/DC. Three years after their last concert in Marseille, will France again welcome one of the best long-awaited rock band in 2020? The return of AC/DC is announced everywhere, but validated nowhere. Should we believe it? Fans are asking the question, and we will try to answer it with several clues."
"If you have followed well, you must be aware that our dear Brian Johnson seems to be back in the AC/DC adventure. On the sidelines since he was diagnosed with deafness problems, the singer is apparently back in the group. One thing is certain, if the band goes on tour, it will not be with Axl Rose as in 2016, but with Brian (phew!)."
The article later states, "The confirmation of Zegut. All rock fans know Tonton Zegut and his good tips on bigger bands. Having already announced METALLICA, RAMMSTEIN or IRON MAIDEN, he recently posted an article that swept the fans. A few days ago, Zegut, once again, dropped a headline 'AC/DC France 2020?'. Everyone knows, our dear Tonton Zegut is only rarely wrong. So believe us, their return is near!
In conclusion, many clues confirm the return of the mythical group AC/DC on stage! A new album will certainly be released in late 2019 as a tribute to Malcolm Young. And a tour will follow with Brian Johnson. And the best news is that the Stade de France will host the band for one or more concerts in 2020!"
Back in January, TERRORIZER — which features in its ranks former MORBID ANGEL drummer Pete Sandoval — took to its Facebook page to recap the group's just-completed European tour. After praising the other bands on the trek and thanking its road crew, TERRORIZER wrote:
"We ran into Brian Johnson from AC/DC at the airport today after the flight home and we asked him about the rumors of him being on the new AC/DC album and he said 'yes' and that he is 'sick of denying it.' So that was a cool surprise ending to the tour."
In August, Brian Johnson and drummer Phil Rudd were photographed at the Warehouse Studios in Vancouver – the same location where their previous three records were made.
Also, Eddie Trunk has said on his recent show that "reliable sources" have told him that AC/DC is gearing up to tour again with Brian Johnson on vocals. He also said that the new AC/DC album will be a tribute to late guitarist Malcolm Young.
He said: "I have sources that told me they are absolutely going to tour with Brian back again. So, that is all unconfirmed from their camp, but I had it with some reliable sources.
"I think it's pretty much a done deal that AC/DC, at the very least, are going to release some sort of record, and it will be a tribute to Malcolm [Young], like Back in Black was a tribute to Bon [Scott]."