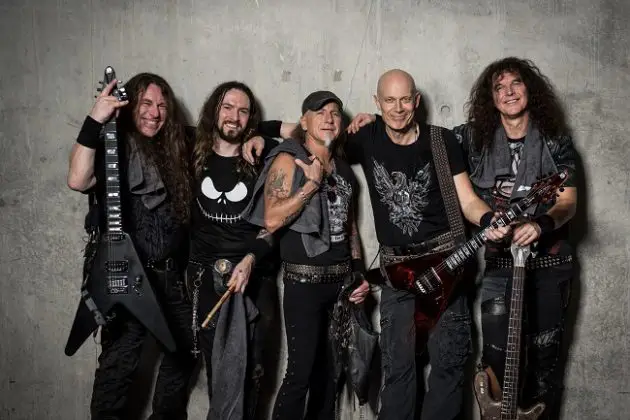 Today, Nuclear Blast announces that ACCEPT's album 'Stalingrad', which was released in 2012, has been certified Gold! The title track was dedicated to one of the most crucial battles of both WWII and the Great Patriotic War.
Wolf Hoffmann (ACCEPT) comments: "RUSSIA! THANK YOU! SOYUZ! THANK YOU! Our first Gold album for 'Stalingrad' in our NEW ACCEPT ERA! We are thrilled and can't wait to see you again!"
Tine Stumpp (Head of Licensing, Nuclear Blast) comments: "We're really proud of the first gold award for our license territory RUSSIA! It's a huge success, it's also the first award for a license country in Nuclear Blast history. Many thanks to our incredible band ACCEPT, who have performed fantastically and made it possible – as well as our partner SOYUZ MUSIC! We're happy to have such a wonderful partner in Russia and great bands like ACCEPT."
Alexey Alyaev (General Director, Soyuz Music) comments: "I'm absolutely happy that heavy metal heroes ACCEPT received GOLD for »Stalingrad« in Russia! I'm a metal fan since my school years in the mid 80's and ACCEPT had always been in the top league in Soviet Union & Russia. I would like to say a big THANK YOU to ACCEPT, for all the music you gave us! Rock on!"
The band is currently on an extensive European tour – 28 shows in 14 countries – in support of their highly-acclaimed album 'The Rise Of Chaos' (all dates can be found below). And to celebrate their huge success of 'Stalingrad' in Russia, the band will also play five shows in Russia and Ukraine in February:
21.02. UA Kiev – Palace of Sports
23.02. RUS St. Petersburg – Aurora Concert Hall
24.02. RUS Moscow – Glavclub
26.02. RUS Yekaterinburg – Tele-Club
27.02. RUS Samara – Klub Zvezda
ACCEPT is a pillar of German–American heavy metal that has won the hearts of their Russian fans. The band have greatly influenced European heavy metal, and with their albums: 'Restless And Wild' (1982), 'Balls To The Wall' (1983) and 'Metal Heart' (1985) inspired a whole generation of young metal artists.
In the 80's, ACCEPT became the choice metal band for the Soviet people. Back then heavy metal was banned in the USSR and it took fans great courage to wear merchandise bearing band's names, fans could have paid a huge price for it. A person in heavy metal clothing could be picked up by the police "for the improper attire" or fall victim of suburban louts, similar to British skinheads, called "Lubera" as they were residents of a Moscow region town Lubertsy. The authorities turned a blind eye to the clashes between metal heads and "Lubera" which in most cases turned into real fights resulting in casualties. As fans could often not afford to buy original vinyl records, posters and other merchandise, they sometimes created their own DIY stuff. The name ACCEPT was amongst the most popular with Soviet rock fans. All the bags, badges, hand-made labels, t-shirts and jackets had the name plastered on.
Today, 30 years later, those Soviet metal fans, though matured, are still loyal to the icons of their youth. They attend music events, buy CDs and educate their kids as to the 'right music'. It was those veterans and the youths raised that way that earned 'Stalingrad' its "gold". Each new album and each new concert tour is enthusiastically welcomed by the fans! Special disk awards have been presented to the members of ACCEPT, their team, managers and official representatives of Nuclear Blast.