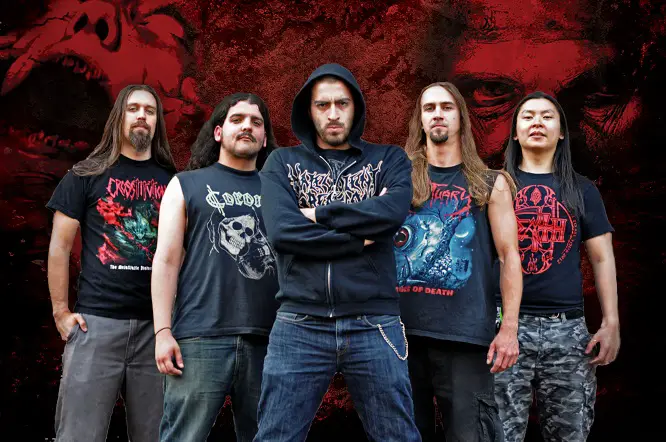 Canadian brutal death metal outfit ACCURSED SPAWN have posted a guitar solo tradeoff video from their song 'Clotheshanger Abortion', taken from the 2014 EP 'Putrid'. The video features the bands' two 6-string wizards shredding off in a Slayer-esque solo tradeoff, that ends in a whammy slam that will send shivers down even the most seasoned metal fan's back.
"After releasing the fretless bass playthrough last week, we received a bunch of requests for some guitar footage. We had some footage left over from a previous recording session, and figured we'd put it to work," explains drummer Jay Cross. "We couldn't be happier with the resulting product".
'Clotheshanger Abortion' guitar solo tradeoff playthrough can be seen below.
Footage of the bands' previous fretless bass playthrough video for the same song is available here.
Accursed Spawn's latest EP Putrid can be purchased from the group's Big Cartel and Bandcamp pages, as well as through CDN Records.
Upcoming Dates:
04.18 Mavericks Bar /w Napalm Death, Insurrection – Ottawa, ON
05.06 Esquire Tavern – Moncton, NB
05.07 Gus' Pub – Halifax, NS