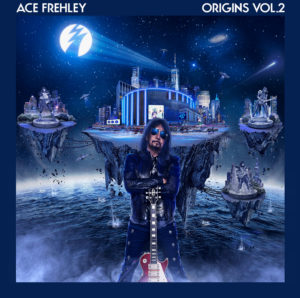 From time to time big shot musicians and bands release an album to praise their roots in a way to homage the artists that had influence on them. It's a natural thing. When an artist is already famous and well-established the urge to show the origins comes. These albums come to answer a question that the fan might ask once in a while which is where his favorite artist came from. Metallica, for instance, did it. Neverthless, some bands prefer to do it little by little showing their preferences by inserting covers album by album. On one hand, it is a good way to make fans know bands that they wouldn't insofar.
Okay, let's now focus on the subject of today's review Ace 'The Spaceman' Frehley the founder guitarist of Kiss, one of the most beloved, though hated in the same intensity, band of all times. I'll start it by warning that this album is for heavy metallers who follow Metal music from its origins – no pun intended. I say that because Ace picked songs that are a kind of history of heavy music inside rock. For instance, there is "I'm Down," a Beatles' song which may strange the unadvised fan who doesn't know heavy music history. The Beatles are often quoted by historians to have written one of the first heavy songs of all times; "Helter Skelter,' which Mötley Crüe fans will recognize as the band covered it. The Rolling Stones earned a homage as well with the heavy "Jumpin' Jack Flash" another reference when it comes to Metal music backgrounds. For the record, "Origins Vol. 2" is a trip around Metal music history because the references don't stop at the two aforementioned. The ubiquitous, and always important, Led Zeppelin is here with "Good Times Bad Times" a song that also had a cover by Extreme Metal pioneers Nuclear Assault. Mountain, another band that many Metal artists quote, are also honored with "Never In My Life." "Origins Vol. 2" also dedicates some tracks to bands that aren't that famous as Paul Revere & The Raiders with "Kicks" and to not so obvious influences as The Animals with "We Gotta Get Out Of This Place."
It seems that Ace loved the idea of recording a tribute album as this is the second volume of it, as the fan can wisely notice. From where I'm standing, I see no problem with it if fans support the idea. Ace Frehley for sure is beyond all that.
P.S : It's nice to see Ace change a little the chorus of Deep Purple's "Space Truckin'" to fit his name.
Ace Frehley "Origins Vol. 2" will be released on September 18th via AFM Records.
Track Listing:
Good Times Bad Times – original version by Led Zeppelin

Never In My Life – original version by Mountain

Space Truckin' – original version by Deep Purple

I'm Down – original version by The Beatles

Jumpin' Jack Flash – original version by The Rolling Stones

Politician – original version by Eric Clapton

Lola – original version by The Kinks

30 Days in the Hole – original version by Humble Pie

Manic Depression – original version by Jimi Hendrix

Kicks – original version by Paul Revere & The Raiders

We Gotta Get out of This Place – original version by The Animals

She (Bonus Track) – original version by Kiss
Watch "Space Truckin'" animated video here:
963