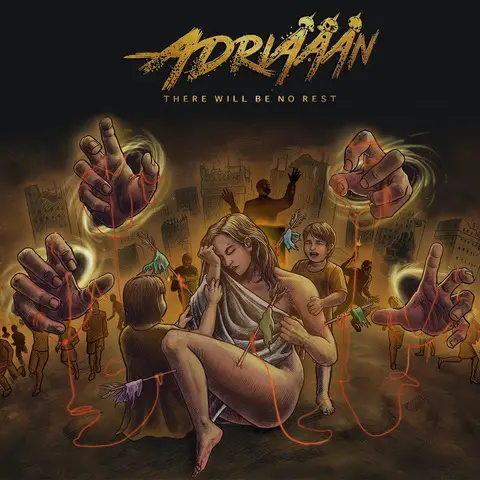 As I told in some other due review, sometimes it's great to get out of the box and off the comfort zone. I addressed reviewing the few subgenres in Metal that I have some little bias, or better, the subgenres that I don't like that much. In fact, I look the other way when I get a band with all labelling Alternative and the cores. You know… I'm only human, I'm prone to make mistakes.
Okay, but sometimes we miss it. ADRIAAAN – yes, it's written this way – and "There Will Be No Rest" made me swallow it. Fricking good album, my child of the night. The highlight is the instrumentals which goes beyond what's expected from them. ADRIAAAN get the best anger and wrath of Pantera vocals with the careful and neat instrumentals Megadeth. This combination aflicts some self-imolating or some spontaneous combustion, if you ask me. The music inside "There Will Be No Rest" is perilous and some serius arson. What happens in a track as "Sleepwalking" is really insane due to its mesmerizing and mighty chords. The guitar lick after the chorus sounds a litle Cirith Ungol – great!. Not only the lick, but also the solo. The fan better watch out for it because it burns.
In general, all bands with those labelling are boring, I mean, they keep doing the same old recipe of only lots of distortion and angry, but unrecognazible vocals, I mean not possible to understand. Guitars are at the same time opaque and so low-tuned that it makes it impossible to listen to them. So, what they have most, in fact, turns into disguising them. Vocals on ADRIAAAN,on the other hand, are angry and recognizable and the music is exciting. Exciting is the right word for "There Will Be No Rest." Take for instance the drumming in "The Idler." Its cadence is also something beyond any comprehension. Its following "Day One" and its guitar squeaks made my day as well and made swallow my pride… as I said before, I love when bands prove me wrong. Bands like this make me still have faith in humankind, or else.
By the way, interesting cover.
ADRIAAAN "There Will Be No Rest" was independently released on February 07th.
Track Listing:
Futures
No Consequence
Singularity
Sleepwalking
This is the Pit
Tiger's Blood
The Idler
Day One
Watch "Sleepwalking" official lyric video here:
908