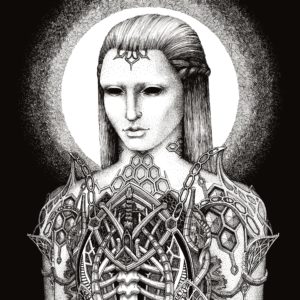 One of the hardest things when you write reviews in a regular basis is to avoid repeting your own cliches. I mean, avoid writing the same old things you write about bands of the same style which share some characteristics in common. To me it's harder when it comes to brutal Death/Black Metal bands because it hasn't been a while I started to admire them. So, many things are still new. To me it is still hard to find the peculiaties any band has and write about them.
"Mortal Prosternation" has only five tracks, so it is easier to write about each, a thing that I don't generally do. Here's me avoiding my cliches. To me the most interesting track is "Seeds from a Burning Land" because it is more complex and dense with all the ups and downs in tempo and cadence. I like them better. It's a perfect match with the harsh and gloomy voice and the mesmerizing, but clear, guitar riffing. There are two that are right-in-the-face brutal tunes: "Katadesmos," which is shorter; and "L'ineffable" much longer and more complex in its more than seven minutes. But the main role in it is the musical carnage with Aeon Patronist touch which is the very well-done guitar passages which are out of the regular and perfectly fit with what is expected today.
Now the peculiarity which I can't avoid writing. Aeon Patronist are a multiracial – I really don't like this term, but… – band, which is a step ahead in today's Metal's configuration. We praise diversity, we praise the loud, and we praise by all means that we are equals. No more, no less. We don't care where the music comes from and who does it, we care about Metal, and that's all!
Aeon Patronist  "Mortal Prosternation" was released on October 08th.
Track Listing:
Introduction
Katadesmos
Seeds from a Burning Land
L'ineffable
Through the Paths of Delusion
Watch "Intro/Mortal Prosternation" official video here: