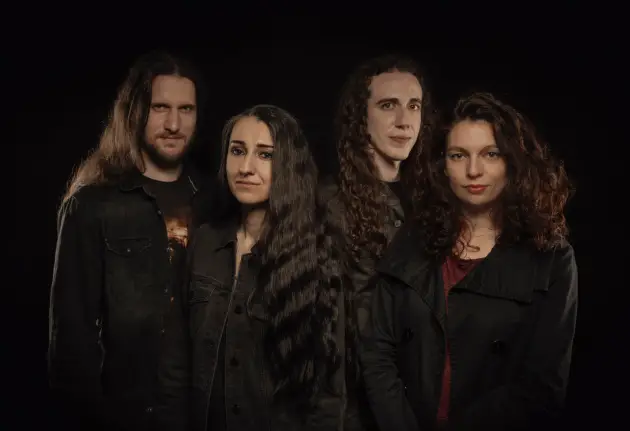 As Toulouse-based symphonic melodic death metal act AEPHANEMER readies the release of their forthcoming and thunderous full-length studio album, A Dream Of Wilderness, this Friday, November 19 via Napalm Records, the band unleashes a third and final single!
Recorded in both, English and as a French bonus version, "Le Radeau de La Méduse" is a heavy power and razor-sharp death metal anthem you can't help but to headbang as fast and heavy you can. 
"This song is named after the famous French painting, and it tells the story of the same French historical event," says guitarist Martin Hamiche. "For this reason, we decided to release a version of the song with French lyrics as a bonus. We hope you'll enjoy both versions!"
Escape into another dimension of blast beasts and furious riff monsters, and watch the new AEPHANEMER lyric video for the English version of "Le Radeau de La Méduse," created by Titanforged Productions, below:
AEPHANEMER doesn't seem to fear boundaries. Their new album delivers a wide metal range that represents a dark and gloomier yet no less powerful side of the band, while otherworldly dimensions of blast beats, furious riffage and heavy, razor-sharp death metal anthems will have you headbanging as fast as you can. Especially in this day and age of staying "true" and limited within a sound and scene, A Dream Of Wilderness is a welcome diversion and a brave record artfully blending brutally fast symphonic death and raw melodic metal into a multi-faceted epic!
The record was mixed by Dan Swanö at Unisound AB, and mastered by Mika Jussila at the Finnvox Studios. A Dream Of Wilderness will be out on November 19, 2021 via Napalm Records, and available as LP Gatefold, CD and Digital formats.
A Dream of Wilderness track listing:
01. Land of Hope
02. Antigone
03. Of Volition
04. Le Radeau de La Méduse
05. Roots and Leaves
06. Vague à l'âme
07. Strider
08. Panta Rhei
09. A Dream of Wilderness
10. Old French Song (Bonus Track – Pyotr Ilyich Tchaikovsky cover)
11. Le Radeau de La Méduse (Bonus Track – French version)