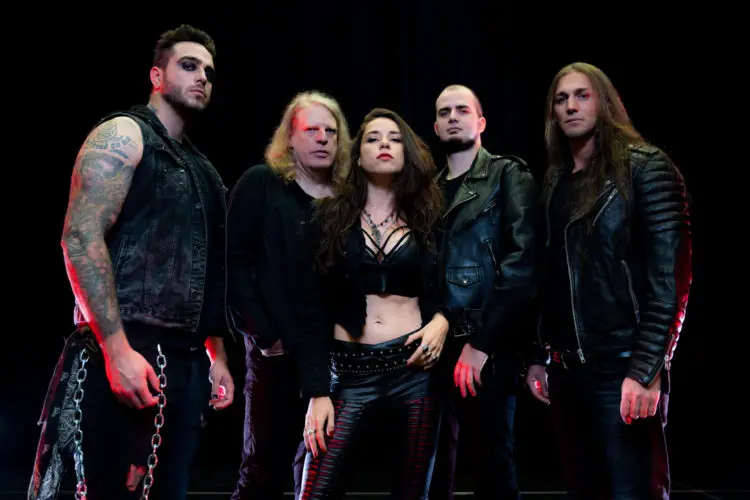 Founded in 1979, French heavy metal pioneers NIGHTMARE have been an integral part of the European metal scene for the past three decades, and have been prolific with their album releases, all the while updating and evolving their sound.
Garnering critical acclaim from their opening show to Def Leppard in 1983, debut album 'Waiting for Twilight' was released the next year, with follow up 'Power of the Universe' coming hot on its heels in 1985.  After a four year hiatus, the band came roaring back onto the scene, bringing a much harder sound with them. New album 'Astral Deliverance' was released in1999 with former drummer Jo Amore assuming his new role as the band's vocalist and drum duties handed to his brother David Amore.  Over the following years, this incredibly hard working, prolific band continued to release albums & tour worldwide, playing some of the biggest metal festivals like Wacken, Hellfest, 70,000 Tons Of Metal, Gods Of Metal and supporting the likes of Sabaton, Saxon, Grave Digger, Blind Guardian.
With the moniker 'the best heavy metal export out of France' firmly under their belts, new album 'The Burden Of God' was released to critical acclaim in 2012, seamlessly combining the band's classic power metal roots with symphonic and contemporary elements. 'The Aftermath' was released May 2014 and marked the end of the band's collaboration with vocalist Jo Amore and drummer David Amore, with the band vowing to return stronger than ever.  In 2016, Maggy Luyten (Beautiful Sin, Beyond The Bridge, ex-Ayreon) took over vocal duties on new album 'Dead Sun', with the band touring this release for upwards of three years before Maggy decided to move on.
2020 sees NIGHTMARE back, unbowed, unbreakable and inspired, ready to take their music to a whole new level. They return with hugely talented female vocalist, Madie (Faith In Agony) on the mic, and have recorded their most ambitious album to date, 'Aeternam,' set for release on 2nd October 2020 on AFM Records.
Melding hard hitting riffs and pounding, insistent drums from the start, 'Aeternam' blends perfectly the raw edged, high energy, power metal Nightmare are renown for, with sublime melodies intertwined throughout. Madie's soaring vocals add an exquisite extra layer to the tunes, with symphonic elements adding a heightened, more progressive feel.
First single 'Aeternam' will be released on 24th July and is a beast of a track, showcasing everything you'd expect from Nightmare and more!
The anthemic single 'Lights On' will follow on 21st August, followed by the darker, fierce 'Divine Nemesis' on 18th September and culminating in the album release on 2nd October on AFM Records.
"Aeternam" was mixed and mastered in Simone Mularoni's Domination Studio in Italy and is being lauded as Nightmare's finest album to date, the band's continued desire and passion to take their music to the next level, giving it a powerful, fresh feel, is felt throughout every song. Quite simply a classic.
Read our review here.