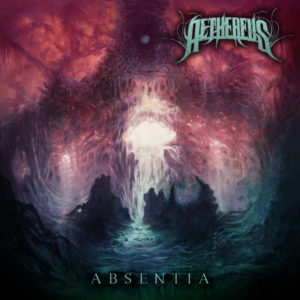 It's funny how we can get the styles of a band only by the name. When we received this Aethereus "Absentia" I thought they would be or technical death metal or symphonic/atmospheric black metal. Both Metal's avant-garde which are using lots of Latin words in songs as well. From where I'm standing, I like that a lot because of the pompous image given to the band. Pompous is a right word for Aethereus sonance because it's very intricate and complex. As their peers, Aethereus take very good care of their instrumentals. Not only the technical aspects, but also melodic. "Absentia" is an album with various moods. Songs like "Mortal Abrogation" could easily be a part of a Emerson, Lake & Palmer effort. I particularly liked very much the solo of "Fluorescent Halls of Decay" because it has some swing. It gives a different touch to the solo. Not only going up and down scales.
"Absentia" is a great album. I have no problem in saying that. It is technically very well played and handled. The dudes got interesting solutions for the songs. It is not an album one can predict the next note or the next sequence of chords. Take "The Black Circle" with its amazing plot twists. Many passages are unpredictable, and that's very good in terms of technical death metal. Some bands are getting too predictable. Well, not the case here. "The Pale Beast" does that pretty well too. I liked the way vocalist Vance Bratcher bounces his voice through the album. He can express anger, wrath, and rage pretty well. It's such a contrast with some more melodic instrumental parts. As I told before, I love those contrasts. In fact, they give a life flavor to albums. And, as we all know, life is the contrast.
Aethereus "Absentia" will be released on August 10th via The Artisan Era.
Tracking Listing:
Cascades of Light
Writhe
Mortal Abrogation
Fluorescent Halls of Decay (Ft. Brody Uttley of Rivers of Nihil)
Absentia
Tha Whitch Is Left Behind
The Black Circle
With You, I Walk
The Pale Beast
Watch "Cascades of Light" official video here: