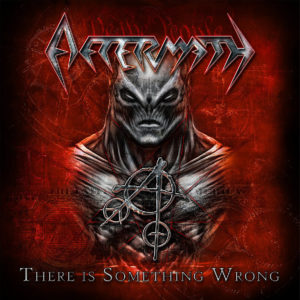 This year has been some kind of abnormal due to the variety of releases and, of course, because of them. Two things come right; one that Doom Metal bands are leading the way with so many bands; and two that punk driven bands are also getting a highlight into our metallic world. From those punk driven bands we've had a few and they were from punk rock or hardcore to metal melted ones. Punk has also increased a great deal of subgenres during those years. Some say punk bands are predicatable, some love their rawness and straight-ahead attitude, some think they're incrediable melting both.
Aftermath mix both in "There is Something Wrong." They are a band of attitude, but also with some rawness, and even some more complex playing in tracks as "FFF (FalseFlagFlying)." The thing is that Aftermath encarnate the spirit of modern punk rock bands with lots of Metal features. Or is it the oppostite? Just looking at the lenth of the songs it's possible to notice that because there are long tracks as "Pseudocide" with its almost seven minutes, and "Handful of Dynamite" with bare two minutes. Aftermath get the better features from Thrash Metal as in tracks as "Diethanasia" which is a perfect melt of Metal and punk.
What attracts the most in bands like Aftermath is their attitude of being straight ahead and writing about politics as there were nobody to censor them. This 'we-don't-care' attitude is great, if I may, just because no one is safe from their criticism. And this is healthy to an extreme music band. But also try to add some more modern features in their music as the effects in "Scientists and Priest" and some guitar solos in one track and another. Another interesting thing in "There is Something Wrong" is its variety of cadence, speed, and influences making it a pleasant album to hear also avoiding to be redundant.
Aftermath "There is Something Wrong" was released on February 15th via InGrooves/The Label Group.
Track Listing:
Can You Feel It?
False Flag Flying
Diethanasia
Scientists and Priest
Smash Reset Control
Gaslight
A Handful of Dynamite
Temptation Overthrown
Pseudocide
There Is Something Wrong
Expulsion
Watch "Diethanasia" official video here: