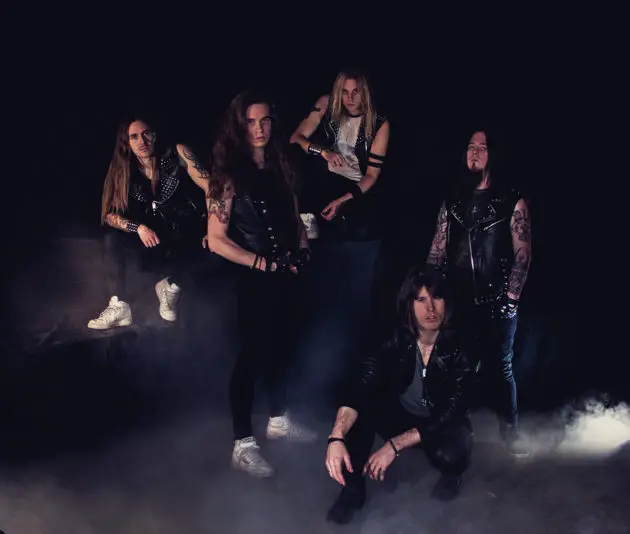 AIR RAID from Gothenburg in Sweden were formed in 2009 by guitarist Andreas Johansson. After a two-track demo in 2011 and CD EP called "Danger Ahead," the band's debut album "Night Of The Axe" saw the light of day in 2012, followed by the critically acclaimed "Point Of Impact" record for the High Roller label (in 2014). Along with similar acts such as Ambush, Black Trip, Bullet and Robert Pehrsson's Humbucker, AIR RAID are hailed as one of the most accomplished protagonists of the new wave of traditional Swedish heavy metal.
However, it took three years for the new AIR RAID album "Across The Line" to be come out, that's quite a long time. A lot had to do with line-up problems. "Better late than never" is Andreas Johansson's motto.
It always is kind of a cliché, but with songs like "Hold The Flame," the rather Saxonish "Hell And Back" or "Northern Light" with its slight Swedish folk influences, "Across The Line" is without doubt the band's most creative effort by far.
The axeman comments:
"First of all, we have two new members in the band: Magnus Mild (on guitar) and Fredrik Werner (on vocals). I would say "Across The Line" is more guitar-oriented than our previous release "Point Of Impact." It's really packed with screaming solos and riffs. The overall feel of the album is melodic but with a very powerful edge. It comes natural for us to blend in neo-classical elements along with the usual heavy metal, so that's another significant thing on this record. Last but surely not least, Fredrik delivers an amazing performance on vocals. This guy has a monster voice!"
The AIR RAID With "Across The Line" will be on September 29th via High Roller Records.
Read our review here.