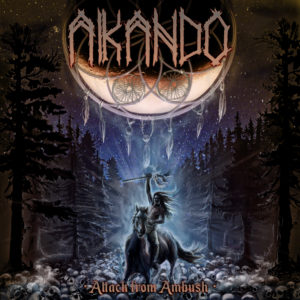 Rock has a long, but not gone, tradition of giving voice to the less priviledged, the oppressed and to the voiceless. Heavy Metal, as the rebellion of the rebellion, dialetically could be the voice to the still voiceless. This was understood by many as an excuse to defend the power, I mean, to defend the ones who don't need to be defended because they already have their means to defend themselves. Being the rebellion of the rebellion also gave Metal the opportunity of avoiding politic-related subjects. A mistake in my opinion. By all means, with lots of courage Thrash and Death Metal have raised the flag and fought the established powers. It is also a Metal tradition to be against everything that is against the moral principles of life and freedom.
Akando with "Attack from Ambush" keep the faith with an album that praises Native American traditions and stories. To me only that would guarantee the eternal grace and a place near the best of Metal, but nonethless, "Attack from Ambush" is a great album with fiercy and bloody tunes. Akando really knew how to create a fan friendly atmosphere to everything related to ancient Native American stories. Some tracks as "Oath of Revenge" and "Wakan Tanka Nici Un" recreate a speek in an ancient idiom which I couldn't tell nor the release tells – it would be nice to know. Neat instrumentals fill in the blanks and give all the needed Metal enviroment to "Attack from Ambush."
This is one more effort that shows that Metal has spread worldwide and among all cultures. Once more it proves that Heavy Metal belongs to humankind, therefore no kind of prejudice should be allowed by Metal fans. It's fascinating how Metal music has been the media to bands express their culture and tjeir desires. Akando and "Attack from Ambush" aren't merely a band and an album, they are paramounts of a music that works very hard to represent all the wishes and reflections of humankind.
Akando "Attack from Ambush" was released on September 13th via Boersma Records.
Track Listing: 
Oath of Revenge
Reservation
Raven Mocker
Wakan Tanka Nici Un
Heavy Runner Massacre
Ancient Voices
Two Wolves Dwell in Me
Death Song
The March of a Thousand Miles
Hold on for Your Life
Watch "Wakan Tanka Nici Un" official music video here: