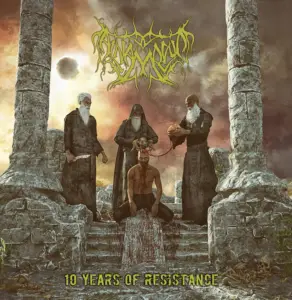 To listen for the first time to Al-Namrood "Ten Years of Resistance" may be a little awkward. Al-Namrood show us a completely different sonority exploring instruments that are not that common in Metal music. Well, I guess it's nothing that folk metal bands hadn't explored before. But the point is "Ten Years of Resistance" can't be labeled as a folk metal effort. I'd rather say they are some kind of experimental. And, as any experimental stuff, it brings some kind of discomfort. Everything that doesn't belong to our comfort zone brings some kind of estrangement. Even more when we notice that songs aren't in English. The language and the musical mix give some kind of oriental and esoteric sonance. A low, deep, and gritty vocal reinforces the feeling. Not only, songs were designed to sound awkward. They were meant to bring new sonority into Metal world.
"Ten Years of Resistance" is an album to be explored in all its wide range of possibilities. Well, to begin with it, I must say it took me lots of hearings to get everything I needed to write about it. All breakthrough efforts are like this. They challenge you. First track "Estorat Taghoot" begins with a "Powerslave" feeling. Its first sequence of notes reminds a lot the ones in Iron Maiden's song. Then it goes to a kind of martial sequence, near to a military or epic cadence. Other songs have some childish instruments sonance which brings us to some sort of movie track. I heard it for the time in "Black Orchestra's Anthem to the Night," which sonance is similar. Another peculiar thing about "Ten Years of Resistance" is the percussion. Al-Namrood use lots of percussion not only to add more strength, but to reinforce the purpose of some songs. I mean, it may be a martial cadence or the oriental drive Al-Namrood want in each particular track.
As all efforts with black metal influences, "Ten Years of Resistance" plays with religious beliefs. They bring into the album most of its insane and twisted influences. In this case, with islamic traditions. Those guys must have the biggest balls of them all to do that. I wouldn't. So, if you need more reasons to listen to that dense and complex  Al-Namrood here it is: I dare you to try it.
Al-Namrood "Ten Years of Resistance" will be released on July 20th via Shaytan Productions.
Track Listing:
Estorat Taghoot
Fe Al Diaji
Hayat Al Khlood
Al Jahliyah
Endama Tuqsaf Al Rous
Asdaa Al Dmar
Atbaa Al-Namrood
Watch "Asdaa Al Dmar" official video here: