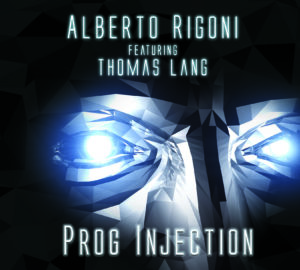 If there is one thing that can take of me such big laughs is when poppers say that Heavy Metal is an ancient and neolitic genre. Nothing can be farther from reality especially when the subject of the conversation is a man like Alberto Rigoni whose dextery in the bass is worldwide recognized. What the man does with his four-stringed battle axe is really wonderful not only because of the techniques he uses, but also because he gives prominence to an instrument that is sometimes forgotten in bands.
Let's go back to the techniques. That Alberto Rigoni is a very talented bassist, we all know, but that he can master lots of bass playing techniques from jazz to funk, that's not very known. The track "Death Stick" can tell us this very well. It's a parade of bass techniques and lots of big playing. It's impressive the way the man holds his four and ten-stringed axes. It's lesson of bass playing in each eight tracks of "Prog Injection."
Well, I know that what I am going to say may sound a little redundant, but there are no guitar solos in "Prog Injection." All the solos are bass as though some of them really sound guitar alike, but in fact they are bass solos. A thing that Stanley Clarke used to do a lot in the 1970s. As a matter of fact, "Low and Disorder" sounds very 1970ish with the keyboards and its peculiar cadence. The kind of thing that is still an experiment nowadays.
I won't say "Prog Injection" is an easy listening album, especially for those who aren't so much about instrumental music. No vocals, no guitars, lots of bass lines and some interesting but uncanny lines and effects. Bottomline, "Prog Injection" is an experimental album where Alberto Rigoni tries new paths to his music. Some tracks sound Art Rock as "Liquid" and others sound jazzy as the aforementioned. Not enough to mention that "Prog Injection" is the right album to whom loves bass and some experimental stuff.
Alberto Rigoni "Prog Injection" was released on June 07th.
Track Listing:
XYX
Metal Injection
Blood Shuga
Death Stick
Omega
Liquid
Low and Disorder
Iron Moon
Watch "MAD 333" official video here: