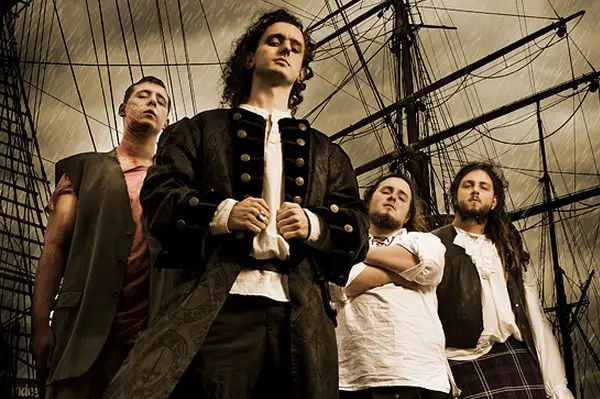 Now this is good news to start with. It's all about rum and pirates… We at Napalm like rum and we especially love ALESTORM!
The pirate metal band has just announced their worldwide re-signing with Napalm Records and they have inked this contract in blood .. OK they decided to use rum instead. Cheers!
Read what Chris and Alestorm have to say about the re-signing:
"AHOY! After 8 years, 4 albums, 1 live DVD, an EP and a couple of singles, it is my great pleasure to announce that ALESTORM will be re-signing our record contract with Napalm Records. Seven years ago I was standing naked in the middle of a field at Summer Nights Festival in Austria, screaming at Thomas Caser (CEO of Napalm Records), demanding more money. Now here we are today…looks like our plan worked! Being pirates, we had to sign the contract using rum as ink, nothing else would do! Unfortunately we only had white rum left (all the good stuff had already been drunk), so our signatures are invisible. We'll leave that one to the lawyers to sort out.
Expect the 5th Alestorm album to be released on Napalm Records in 2017! We're taking our time with this one, and it's gonna be good. Maybe.
Cheers
Chris & Alestorm"
Napalm Records A&R Nadir Amrioui states:
We are more than proud of ALESTORM and their remarkable success! 8 years ago we've received this strange demo CD of an even stranger pirate-metal-band. That was the beginning of a piratic journey all over the world. We at Napalm are so much looking forward to the next album. This is going to be awesome. It surely is!"
Let's get this party started! Anchors Away!
More info & news coming from the seven seas very soon!