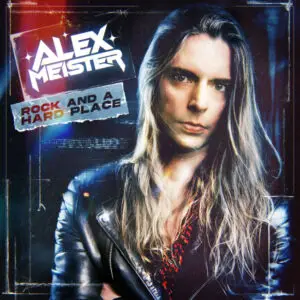 Fun fact about this album is that I was looking in a page for a CD to buy and I ran into it for sale. Would I have bought it if I hadn't received it? Sure, I would. Just the kind of album from whom want some uncompromised music. I know that term can mean a lot of things. Some good, some bad. Don't worry though, we're on the good page. In that case, I mean 1980s Hair Metal with lyrics about cars, girls, love, and all the package. A sonancy that may be worn out but it still works for some people. Just it works for me. So, singalong choruses, strong melodies, catchy guitar riffs, and everything else. I find it harder to write about an album so familiar like this. Really, I do.
Ok, then. First thing first. Technology has made it easier to record albums. I mean, back then in the long gone past a band had to struggle to get a record deal or even to get enough money to record it independently. It wasn't cheap. The cost could skyrocket. Alex Meister is a solo artist who also does records with his band Pleasure Maker – hey, what a great band name. Now he's got some dudes and recorded this "Rock and a Hard Place" which I said I would buy it. It's not a groundbreaking album that will shake the structures of Metal music, but it does give the fan lots of pleasure. From the beginning the album showcases its clear message with "Game of Love" with a strong guitar riff and a singlong chorus. Well, that I said before. What I didn't say is that the guitars pay off. Alex Meister isn't a newcomer and, of course, he isn't nieve. He knows people buy this kind of record mostly because of the guitars. And he delivers it. Ergo, "Rock and a Hard Place" is full guitar solos. "Game of Love," for instance, has three moments for them – that I counted. I don't know why tracks as "Feel This Time Time" reminds me the late Wander Taffo – rest in peace warrior. In fact, to be more precise, "It Ain't 'bout Love" sounds much more like it.
That no revolution will be carried on because of "Rock and a Hard Place" it is sure. But it's also sure that my dear child of the night will have some good times with it. Great guitars in it.
Alex Meister "Rock and a Hard Place" was released on December 16th via RFLRecords.
Track Listing:
Game of Love
Feel It This Time
It Ain't 'bout Love
Twisted Desire
Lonely Is the Night
Just Thinkin' About You
Next to Me
Hard to Say Goodbye
Only a Dream
What We Left Behind
Chains of Love
Watch "Twisted Desire" official music video here: