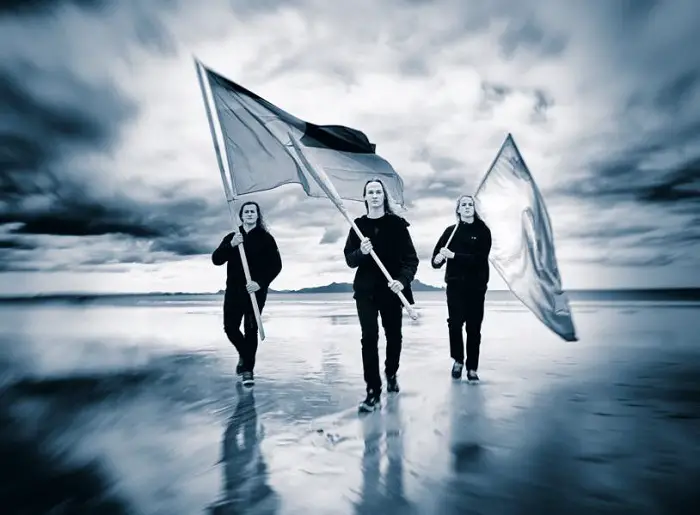 New Zealand's rising musical stars and teenage thrash metal band ALIEN WEAPONRY have signed a worldwide deal with Napalm Records! With such an impressive career that started five years ago when the band members were just 10 and 12 years old and this unique combination of thrash metal and Māori cultural background, Napalm Records is excited to welcome ALIEN WEAPONRY to their eclectic artist roster:

"Napalm Records is proud to announce the signing of the thrash metal band Alien Weaponry from New Zealand" says Sebastian Muench, A&R of Napalm Records. "Besides the fact that they are the youngest musicians we ever added to the Napalm band roster they are also one of the most exciting and unique bands in recent years. Their combination of old school thrash metal and Māori culture elements and language creates intense and energetic songs that should be highly attractive to all true genre fans especially those stopped listening to the Sepultura after the "Roots" album. Kia Ora Alien Weaponry and welcome to the Napalm family!"
The band comments: "Napalm is a great label for us to work with because their whakapapa (genealogy) includes a lot of thrash metal, which is where our roots are. So we fit within their whanau (family), but we're also doing something different, introducing our own language and style. For these reasons, we think we will both grow and benefit from this relationship. "Being based in the tiny town of Waipu, New Zealand, we are pretty much as far away as you can get from the heavy metal centre of the world (which to us is Wacken, Germany), so this is a massive step for us towards establishing our career internationally."
The trio shocks and surprises audiences on a number of levels. ALIEN WEAPONRY's songwriting is complex, developed and highly political. Their live performance energy is startling, with just two fifteen-year olds commanding the front of stage as effectively as four- and five-piece bands three times their age. But perhaps most surprising of all, given their blonde flailing locks and Viking appearance, many of their songs are in New Zealand's native language, Te Reo Māori. In fact, guitarist/lead singer Lewis de Jong (15) and his brother, drummer Henry (17), are of Ngati Pikiāo and Ngati Raukawa descent – they call themselves 'Stealth Māori.' They attended a full immersion kura kaupapa Māori (Māori language school) until they were seven years old, where singing waiata and performing haka were a daily routine. Also ingrained in their early learning were stories of New Zealand history from a Māori perspective. In September 2017, they won the prestigious APRA Maioha award for their song 'Raupatu' – a thrash metal commentary on the 1863 act of parliament that allowed the colonial government to confiscate vast areas of land from the indigenous Māori people. On 16 November, they took their places among NZ's musical elite as nominees at the Vodafone New Zealand Music Awards.
The combination of thrash metal with Māori history and language has proved popular. Their latest music video for "Rū Ana Te Whenua" has more than a million Youtube and Facebook views, spent 2 weeks at no. 1 on Spotify's NZ Viral chart, and hit no. 2 on the iTunes global metal chart (just behind Iron Maiden's 'Run to the Hills'). The band's music has been playlisted on stations in New Zealand and around the world – from Scotland to Brazil, as well as the USA, Australia and Germany.
ALIEN WEAPONRY's English material is equally controversial, calling out everyone from teachers and friends at school to the media for variously glorifying and destroying the lives of television and sports stars. "We listened to all sorts of music when we were younger," says lead singer and guitarist Lewis de Jong, "but we were drawn to thrash metal because it's quite complex music, and it is a great vehicle for expressing real stories and emotions." "It also works with Te Reo Māori," adds drummer Henry. "Both the musical style and the messages have a lot of similarities with haka, which is often brutal, angry and about stories of great courage or loss." 
But it's not just the metal community who are taking notice. London-based youth culture and fashion institution i-D ran a piece on the band in September 2017. More recently, Alien Weaponry featured in a story entitled 'Can a Thrash Metal Band help save the Maori Language?' published in the respected New York political and cultural journal, The Atlantic. In New Zealand, they have appeared on everything from Kids' TV shows Pukana! and Sticky TV to late night political comedy panel 7 Days. "These guys could be bigger than Lorde in terms of our musical export," says TV One Breakfast music correspondent Sarah Gandy. "They believe in their identity as a metal band, their use of Te Reo is impressive, there's really nothing else like this in the world at the moment," agrees Jeff Newton from NZ On Air.