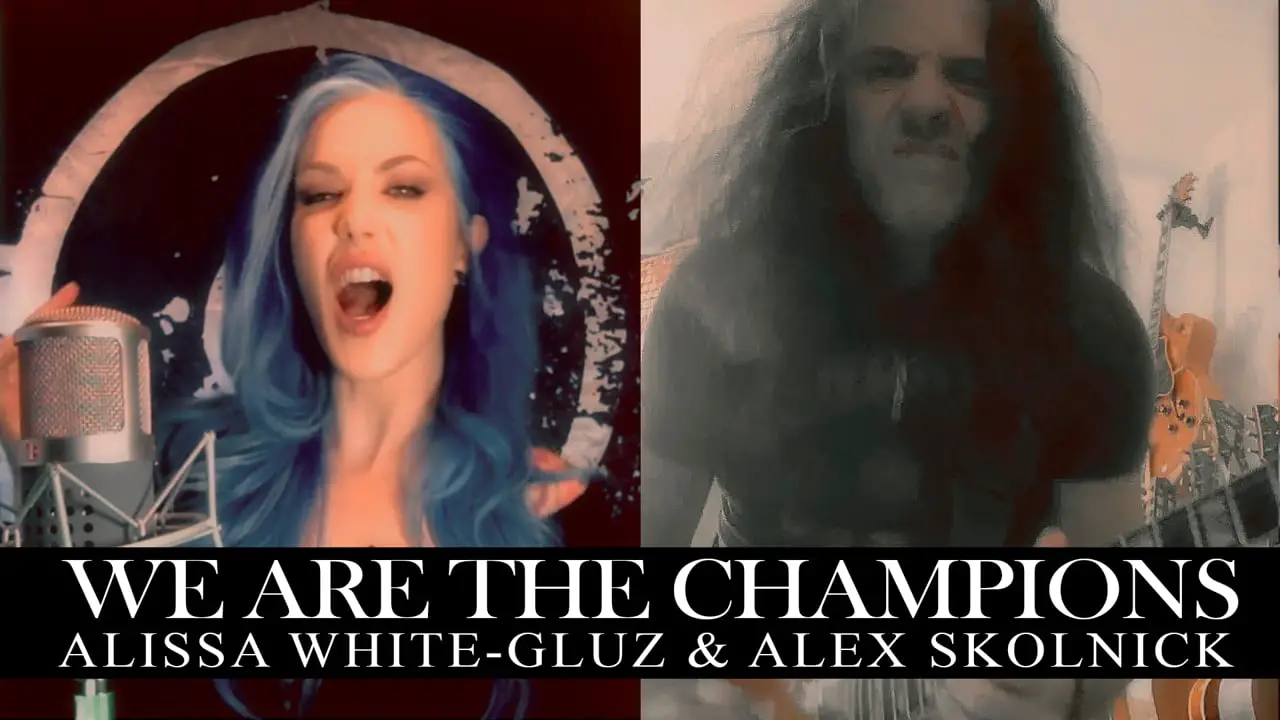 ARCH ENEMY frontwoman Alissa White-Gluz and TESTAMENT guitarist Alex Skolnick have joined forces for a cover of QUEEN classic "We Are The Champions."
Alex Skolnick commented on the cover: "I've been working on something very special for you and in partnership with a fellow PATREON creator. This is a joint post for just her Patrons and mine. 
"She is none other than Alissa White-Gluz, someone I admire greatly as well as a great friend in real life. Alissa (or AWG as I may refer to her), is a wide ranging artist whose vocal styles cover the gamut from bright shining melodies to all-out brutality (as widely heard in her work with ARCH ENEMY) to all points in between as well as a globally respected activist, visual artist, poet and more. Her Patreon activity is an inspiration to my own, and to anyone looking for additional artists to support here, consider this a recommendation.
"We are both proud to present to you our version of QUEEN's 'We Are the Champions.'
"A little background: Earlier this year, Brian May, (legendary QUEEN guitarist/astrophysicist/luthier and more) shared a post of himself at home playing just his guitar part, encouraging others to join in. This was back when lockdown 'challenges' were still new, during the height of shutdowns across the UK (where he was), Europe and North America. Among the many public answers to the challenge was a longer form video involving more than a dozen musicians and singers paying tribute to first responders, essential workers and others.
"In that version, each line of the tune is heard sung by a different vocalist (there were four, although AWG had sent in tracks of her singing all the way through to make sure there was at least one voice for each line). There are also stops, breakdowns and an extended spoken word section. It is quite the undertaking (courtesy of our friend Jason McNamara), for a good cause. AWG and I are proud of our work on this song and encourage those who haven't seen it to do so (it's on our IG and other social pages). 
"At the same time, these tracks had come out well enough that we couldn't help wondering:  With respect to the longer project, what if there was a version with no stops, starts or spoken word interludes, just the song — top to bottom — with all the verses expressed by just one voice (as had been the case with Freddie on the original)?
"In order to make this happen, we'd have to speak with some of the musicians and folks behind the long version, get their blessings (thanks guys!) and take some of the earlier rhythm tracks and make them fit the new format," he continued. "When AWG originally tracked her vocals to this song, she was basically singing along to Brian's short Instagram clip on a loop, which is different from this arrangement. So for this new version, she had to sing some new lines and redo some parts, including a full wall of backup vocals. To achieve this, she changed her physical stance around the microphone and played with repositioning her larynx to change the formants of my voice so that I could get a rich, full sound as if multiple different humans were singing. A couple tracks of my own voice (from the previous version), are there as well, but the vast majority is a glorious choir of Alissa's.
"The video footage of me here was from the earlier version. However, you'll get to see much more of it now. Meanwhile AWG used a high quality Nikon w f1.8 lens for her new clips, adding depth to her "livestream" footage recorded earlier. Plus — with the multiple AWG's singing the backups, she chose to pay homage to the Rocky Horror Picture Show singing lips for the additional voices (which I immediately recognized, having been a massive RHPS fan in junior high school!).
While my guitar parts fit as is and wouldn't have to be replayed, there'd be a whole job in store: Mixing! I've mixed my basic demos (and recently, yes, rap singles), but never anything quite like this. After wondering if we should opt to have it professionally mixed or try to do it ourselves, we decided I'd take a "stab" at it. It seemed like a good opportunity to learn
"After much research, educated listening, bouncing mixes off AWG (who concurrently has learned a lot this year about recording on the same DAW platform), even referring to solo Bee Gees backups as heard in their new documentary (!), it feels like it came together well. Hopefully you'll agree Here it is, exclusively for both of our supporters here on Patreon. Many thanks to all who participated in the original version and to Beatriz Mariano (also a Patreon creator!) for editing the video for us! At some point, we will likely make this publicly viewable, (but still on Patreon but for now it is for patrons only. 
"I will upload the file of the song in a separate post so you can listen to the song on your phone as well! Take a look at my next post for that.
"We hope you enjoy this as much as we enjoyed making this for you. Thank you for getting through this year with us.
"You our OUR champions."