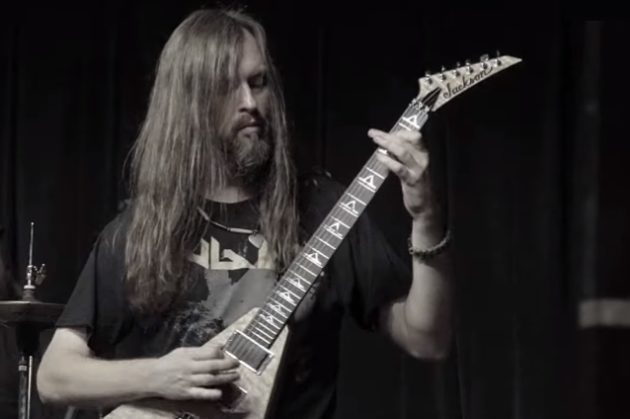 The surviving members of ALL THAT REMAINS are taking legal action against the widow of their former guitarist Oliver "Oli" Herbert, alleging that she is impeding payment to them in regards to royalties and making sweeping assertions about owning some of the band's most prominent songs.
The lawsuit, which was filed on January 6 in United States District Court for the District of Connecticut, alleges that Elizabeth Herbert "has made various claims" against ALL THAT REMAINS members Philip Labonte, Michael Martin and Jason Costa, "including alleging that [they] were stealing from her and using her late husband's recordings without permission, disparaged [them] on social media, threatened to report the Band to various federal, state and local authorities, claimed the Band had committed crimes, threatened to sue the Band in multiple jurisdictions, and falsely claimed that she had sued the Band."
Herbert declared on a Facebook post dated August 16, 2021 about the band's song "This Probably Won't End Well" from their album The Order Of Things that she was "a co-owner of band's entire catalog. This statement is according to what was acquired by Blabbermouth.net in an ongoing lawsuit.
According to reports, she has taken legal action against Concord Music as a successor in interest for Prosthetic Records and Razor & Tie, as well as 800-Pound Gorilla Music "with respect to their respective recording." As per the agreements between ALL THAT REMAINS and these music companies, there is an ongoing obligation of paying royalties both to Oli's estate and ALL THAT REMAINS.
In a filing dispute between ALL THAT REMAINS and Elizabeth Herbert as well as the Oli Herbert estate, Concord Music declared that it would deny any royalty payments until their disagreement was resolved.
The statement continues saying that "Concord Music ultimately agreed, as an accommodation, to pay the royalties due for the period ending December 31, 2021 to the Band, provided that the Band agreed to hold Oli's percentage interest in such monies in escrow. In early October 2022, the Band received another royalty statement from Concord Music for the semi-annual accounting period ending June 30, 2022, but did not initially receive payment of any royalties despite such statement reflecting that royalties were due."
"After some discussion, Concord Music again agreed, as an accommodation, to pay the royalties due for the period ending June 30, 2022 to the Band provided the Band agreed to hold Oli's percentage interest in such monies in escrow. However, notwithstanding these 'accommodations,' Concord Music has advised Plaintiffs' representatives that Concord will not release any further royalties (including the anticipated royalties to be paid to the Band for the period ending December 31, 2022) due to the Band members — not just Oli's share of such royalties — until such time as Concord Music receives a letter of direction signed by the Estate and the Band with respect to payment instructions for Oli's share of the Recordings and Compositions."
Labonte, Martin and Costa explain that they are currently keeping Oli's share of the Band's royalties for 2021 and 2022 in escrow and eagerly await payment to the Estate.
Labonte, Martin and Costa are asking the court to declare that Oli (and/or his estate) has a 27% stake in each of the ALL THAT REMAINS recordings being disputed. Furthermore, they have requested that Oli's estate should execute a letter of direction towards Concord Music so as to definitively settle any withholding royalties issues with the Plaintiffs.
The plaintiffs have requested the court to mandate Concord Music pay them all overdue monies for their recordings and compositions, as well as any outstanding record or music publishing royalties owed. Furthermore, they are demanding payment be made to Oli and/or his Estate in respect of both records and compositions.
Last May, Elizabeth Herbert broke her silence since the death of her husband in an exclusive interview with Daily Mail. Denying any involvement, she firmly declared "I absolutely did not kill my husband."
Oli was found dead on October 16, 2018 at the edge of the pond on his Stafford Springs, Connecticut property. He was reported missing by his wife about 3 p.m., and his body was found by police face down at the edge of the pond where the water was only a few inches deep. The medical examiner's office conducted an autopsy showing that Oli had three prescription drugs in his system — the antipsychotic olanzapine, the antidepressant citalopram, and Ambien. It also said: "Mr. Herbert's past medical history is reportedly significant for marij*ana use."
Herbert signed a will just week before his passing. The will was notarized by a person who was a friend of Herbert and his wife, Elizabeth Herbert, and who works at the dealership, on October 9.
The will names Elizabeth Herbert as executor and sole benefactor. It says that Oliver Herber's sister, Cynthia Herbert, should not become executor or receive anything from his estate. The will also states that Elizabeth Herbert should get all "property as well as any current or future earnings."
One of the witnesses who signed the will, Alexander Mandel, also works at the dealership.