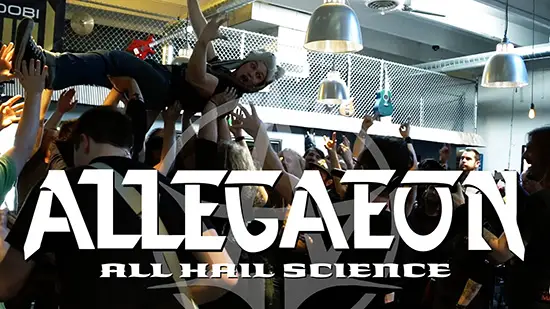 On September 23rd, melodic death metal outfit ALLEGAEON will be releasing their fourth full-length, 'Proponent for Sentience', via Metal Blade Records. Today, the band has launched a performance video for the new album track, "All Hail Science", which was shot at Black Sky Brewery in Denver, Colorado during the recording of 'Proponent for Sentience' earlier this year.  You can watch the video below.
ALLEGAEON's Greg Burgess (guitar) comments: "We had the great pleasure of being allowed to shoot 'All Hail Science' at Black Sky Brewery here in Denver. We have a great selection of metal bars here and Black Sky is by far my favorite. It has such a friendly atmosphere and the staff and owners are so supportive of our local scene. Basically Black Sky let us throw a free show/party for anyone who wanted to show up. It's pretty apparent from the video, but we had a blast that day. Huge thanks to Black Sky for their hospitality, SSS Productions for running sound and lights, Vince Edwards from Metal Blade for filming us being dumb, and the fans who showed up to party!"
'Proponent for Sentience' can be pre-ordered now at: metalblade.com/allegaeon
Produced by Dave Otero (Cattle Decapitation), Proponent for Sentience is a musically complex, intelligent, and absorbing concept record that can rightfully sit alongside the true greats of the medium. With a lyrical arc rooted in science-fiction yet uncomfortably encroaching upon the reality of the present, it captures the Fort Collins, Colorado natives at their most ambitious and accomplished, pushing the boundaries even further than on their three previous critically acclaimed full-lengths. See below for the official track-listing!
'Proponent for Sentience' track-listing
1. Proponent for Sentience I – The Conception
2. All Hail Science
3. From Nothing
4. Gray Matter Mechanics – Apassionata Ex Machinea
5. Of Mind and Matrix
6. Proponent for Sentience II – The Algorithm
7. Demons of an Intricate Design
8. Terrathaw and the Quake
9. Cognitive Computations
10. The Arbiters
11. Proponent for Sentience III – The Extermination
12. Subdivisions
ALLEGAEON line-up:
Riley McShane – vocals
Greg Burgess – guitar
Michael Stancel – guitar
Corey Archuleta – bass
Brandon Park – drums