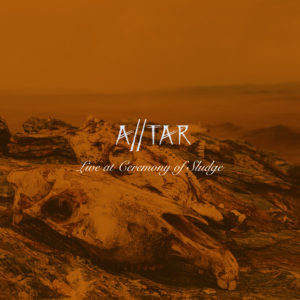 If I had to choose a Doom Metal band to be the perfect example of the subgenre I'd happily say that Alltar were one of my favorites to be the one and "Live at Ceremony of Sludge" would be the perfect album to newcomer to get to know about Doom Metal. This "Live at Ceremony of Sludge" has all the conventions that shaped the subgenre. And the best of all: it's alive. It's slow cadenced, shoegazed, grungy and some kind of sludge as the title says. The only thing that doesn't fit perfectly is the length of the tracks. There are none bigger than nine minutes as it is usual in the albums. Neither the tracks are absolutely monolithic with few changes around their performance. In fact, there are lots of changes – of course, having in mind that Alltar are a Doom Metal band.
An interesting fact about "Live at Ceremony of Sludge" is that each of three tracks are presented by some kind of intro of about one minute. As in any alive album there is some kind of comunication between vocalist and performer Juan Carlos Caceres with the audience. In fact, his performance gives the band the thing that make them more than doomy. The man varies a lot his vocals around the songs and isn't satisfied uniquely following the guitar or guitar riffs as in many of their peers. His clean and well-shaped voice changes everything in the album when we observe that it's an alive album after all. Another interestinf fact about it is that it was recorded at the band's hometown.
Ok, now some notes about the instrumental. For the record, they are what fits perfectly in everything it's crystalized about Doom Metal. The most interesting is that the instrumental of tracks as "Cantilate," "War Altar" and "Arcana" deliver the fan all the loss and griefing mood they are used to pass. The low-toned guitars help a lot to create this out of hope atmosphere filling it with so much despair. Guitar duo Tim Burke and Colin Hill are very cohesive and the songs are well-performed even though there are no guitar solos. A huge pity from where I'm standing because I think guitar solos would enlight the songs a lot.
"Live at Ceremony of Sludge" delivers what it promises in the title. The mood in the gig is as if they were in some kind of ceremony.
Alltar "Live at Ceremony of Sludge" will be released on February 12th.
Track Listing:
 Intro

Arcana

Interlude

War Altar

Ceremony of Sludge

Cantilate