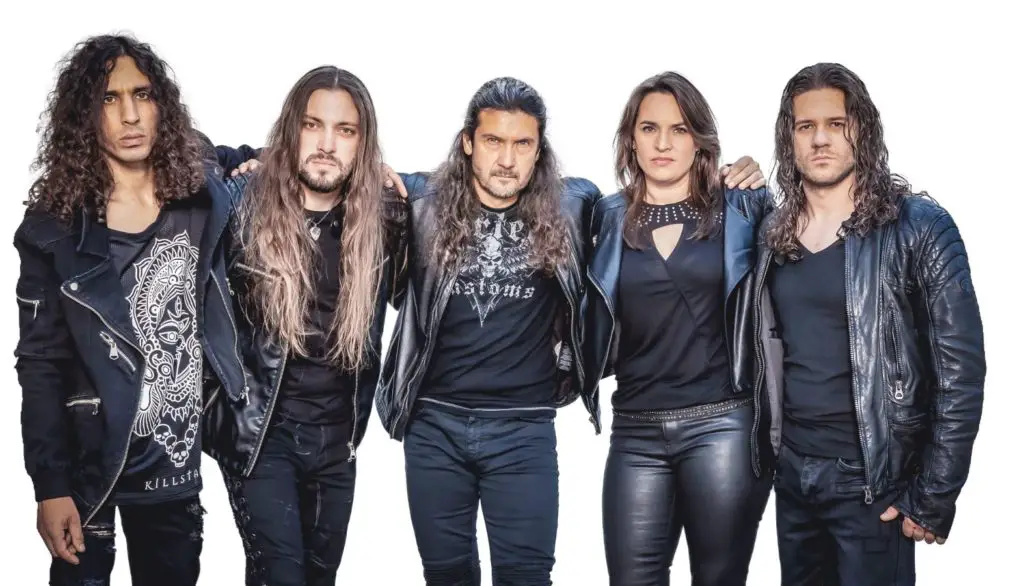 Victor Smolski's ALMANAC present a previously unreleased version of "Kingdom Of The Blind", which was originally part of 2017's "Kingslayer" album featuring vocalist Frank Beck (GAMMA RAY) as well as new arrangements.
Victor Smolski commented on the track: "On our European Tour 2020, Frank Beck became the main singer of ALMANAC. 'Kingdom Of The Blind' was his favourite song from ALMANAC. So, we decided to do a new version of this song with great support from Belarus Symphony Orchestra, which brings the song to a new level."
ALMANAC – the band of Victor Smolski (ex-RAGE) – stands for a new dimension of symphonic power metal, featuring three singers Jeannette Marchewka (LINGUA MORTIS ORCHESTRA), Andy B. Franck(BRAINSTORM) and David Readman (PINK CREAM 69). In March 2016, ALMANAC unleashed their highly acclaimed debut album "Tsar", which entered the official charts in both, Germany (#74) and Switzerland (#87), followed by a European tour along with ORDEN OGAN, as well as their own headliner tour in spring 2017.
"Kingslayer" was released on November 3rd 2017 via Nuclear Blast. The cover artwork was once again created by Hungarian artist Gyula Havancsák (ACCEPT, DESTRUCTION a.o.).
ALMANAC unleashed their third studio album "Rush Of Death" last year via Nuclear Blast – and the record has entered the charts in ALMANAC's home country Germany at #67, in Switzerland at #54 and in the Japanese Disc Union Chartson at #5.
Victor Smolski commented: "A big thank you to all our fans for your support! We are really happy about the chart entry and also about your feedback on Facebook, Instagram and YouTube. We will continue to post videos, so stay tuned! The atmosphere at our recent concerts has been absolutely amazing! Sadly, we have to take a break from touring now, due to Corona, but we will reschedule all our shows. I also hope you like our CD + DVD package! See you!"