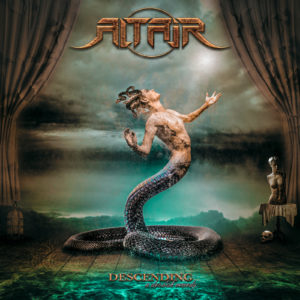 After listening to a bunch of bands, Altair's "Descending: A Devilish Comedy" proved me something: Heavy Metal is the opera of our times, the classical music of a whole generation. "Descending: A Devilish Comedy" has all the elements an opera does, I mean, it tells a story using instruments. "Descending: A Devilish Comedy" is full of emotion. It's made of passion. Each track tells one story. No need to mention the resourcefull musicians and their abilities. Altair is full of capable musicians. The same as the opera. Take a look at the name of the album: "Descending: A Devilish Comedy". Pure opera.
I know I'm telling you no news. But sometimes we need to trace paralels. It's no wonder that bands are full of musicians with classical studies. Each era has its soundtrack and Heavy Metal is the soundtrack of our times. And here's Altair and "Descending: A Devilish Comedy" to prove us right. 
The opening theme is sweet and smooth, "Descending" is a very good track. The surprise comes with "Seven" a track where everybody in the band show their best capabilities. It's an intricated song. Lots of moving  tempos and countertimes. Another sweet thing about Altair is that the keyboards are not only added to songs, they take the lead sometimes as in "Godless" bringing something else to the song. Not to forget melody, there's "Seed Of Violence" with all the melody of the chorus and the guitar licks. Reminds Angra at their best. With all due respect, I guess Angra was the milestone for Altair. Each band has its milestone, and Altair's is Angra. Only that. Good for them. Guys, all power metal metal bands drank or will drink on Angra's fountain. Crystal clear!
Keyboards are the thing that calls most attention to Altair. And mostly in this effort, "Descending: A Devilish Comedy". And that's nice. It gives Altair a personality.
BTW: What a nice art cover!
Track Listing:
Descending
Path Of Worms
Limbo
Seven
Godless
Seed Of Violence
Flame Of Knowledge
Frozen Graves
A Lesson Before Ascending
You can watch the official video to "Seed Of Violence" here: