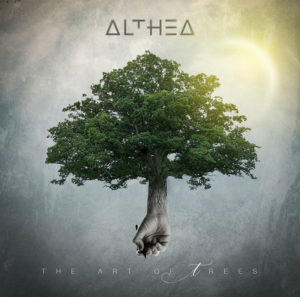 Have you ever noticed that album titles say much about the band? One can even say the subgenre of Metal they are. Well, I guess that's no news at all. It was just trying to break the ice and present this great Prog Metal band called Althea and their third full-length album "The Art of Trees."
Needless to say that "The Art of Trees" is an album technically perfect. Althea dudes handle their instruments flawlessly to reach an incredible level of perfection. But no news at all again. I'm getting redundant.
When I hear a track as "Today" I notice a very subtle touch of Italian pop music. Don't make me explain how, but the childhood years listening to it gave me the ears to recognize the very subtle touches of it. In the past, rockers and heavy metallers avoided any approach to their national pop music. In fact, nowadays they don't. They are really proud of it. Well, bottomline, guys, consider this a compliment.
"The Art of Trees" is an album with strong melodies. That's something that differs Prog Metal from Extreme Metal, though, most Extreme Metal bands are adding more melody to their songs to go easy on sonic violence. "Evelyn" has such delicate textures that as ironic as it may seem, one gets reluctant of touching it. It's the perfect example of a song which goes in a crescendo to reach a peak in the middle. Prog Metal deals fine with this kind of crescendo technique. The song reaches a peak to then return to its original delicate texture.
Althea guys chose to drive their music near Art Rock, even though Metal touches are everywhere. There are strong and heavy tracks as "Not Me," but they are Art Rock heavy, if you get me. The bounce of hard and delicate makes it. Althea guys really know to balance those moments and fill them with the right dose of emotion. Music is emotion, as I always say.
Althea "The Art of Trees" will be released on January 08th.
Track Listing:
For Now
I. Denial
II. Anger
III. Bargaining
IV. Depression
V. Acceptance
Deformed to Frame
One More Time
Today
Evelyn
Not Me
The Shade
The Art of Trees
Away from Me ft. Michele Guaitoli
Burnout
Watch official video here: