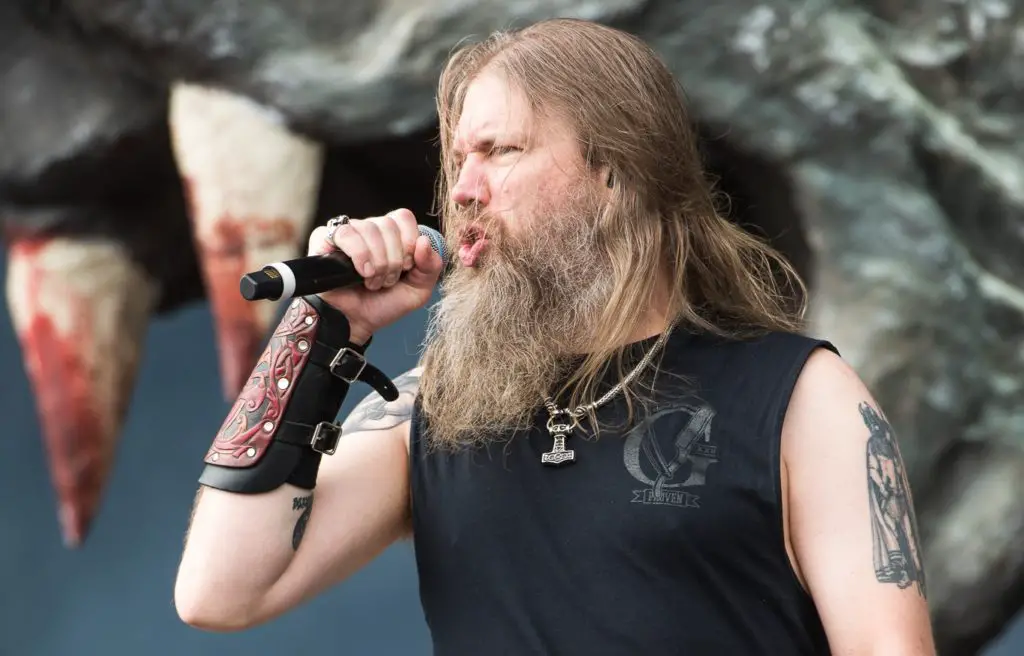 During a recent appearance on MACHINE HEAD frontman Robb Flynn's "No F*ckin' Regrets With Robb Flynn" podcast, AMON AMARTH frontman Johan Hegg revealed that he and his wife Maria recently took in a refugee family from Ukraine.
"Obviously what's happening in Ukraine is horrible," Johan said. "We have two Ukrainian women and their children living with us. A lot of people in Sweden are doing that. It needs to be done. Over 10 million people in Ukraine are refugees, and almost four million of them are refugees in Europe now. So, obviously, they need somewhere to stay."
When asked by if the Ukrainian family that is staying with Hegg has relayed any horror stories from their journey escaping their war-torn country, he responded: "Fortunately for us, and for them — mostly for them, but also for us — because there are stories where people are very traumatized who come to live with people, and it is difficult. But fortunately for the people living here, they didn't experience too much on that; apparently, they got out in time.
"They're from Kyiv. But they have both a place outside Kyiv, in the countryside, and an apartment in Kyiv. So, at the moment, it's the mother and grandmother of two children that are here, but the husband of the mother of the children is still in Ukraine, which, obviously, is difficult for them. I think he's a farmer, so I think actually he's trying to farm the land so that they can produce food, which is also important, obviously. But every once in a while, you can tell that the mood is going down and they're affected by it. But they're doing a good job of trying to keep a positive attitude, which I'm really impressed about."
"We just imagine what it would be like to have to leave everything behind yourself — live from a suitcase, basically, and depend on other people to help you. It must be horrible," he added.
Hegg previously spoke out against the Russian government's invasion and destruction of Ukraine.
The 48-year-old Swedish death metal musician wrote on Twitter: "My lyrics are often about glorious battles & brave warriors, but they're just stories, sometimes based on history. That doesn't mean I condone war as a matter of solving conflicts. War is never a solution to any dispute. It can only generate more animosity & hate between people.
"Right now Putin has invaded the Ukraine, a democratic, sovereign state, and though this is far from the only weaponised conflict in the world, it has affected me deeply. I thought we as Europeans were passed this, especially considering our troubled past.
"My hope is that Putin will end this attack on Ukraine, & that peace will be restored in Europe. My fear is that even if this happens, it will take a very long time for trust to return between Russia & the rest of the world. I stand with Ukraine & all Russians who oppose this war."