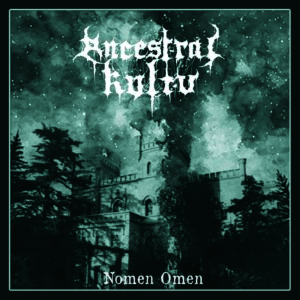 It's really odd when an album kicks off right off with the vocals blazing his guns and yelling his throats out. As the ladies say some foreplay is really needed to get us in the mood. Just breaking the ice…
Okay, really, Ancestral Kvltv "Nomen Omen" kicks off with "Hyperborea" which is a very harsh and heavy track with unearthly vocals. The guitars almost reproduce that buzzsaw sound that is so pleased in Extreme Metal songs – as a matter of fact, I appreciate it a lot. Instead of the almost buzzsaw sound there is some kind of eternal riffing attitude that makes the riffing bound to be eternal or nonstop. It may be due to its mesmerizing feature which gives the fan the aforementioned effect. It is possible to find in some Ancestral Kvltv some punk hardcore dashes which allows the band's music to get even more heavy and powerful. The train has left the station for the quarrel among metallers and punks for the heavyness' sake. Those dashes are added by the drumming which follows hardcore standards of playing giving the songs an extra dose of speed. The eerie voice that haunts all the album gives the Black Metal tone to the writing. a fun fact is that "Hyperborea" and "Into The Woods Whith Out End" are so utterly connected that the fan may miss the blank between them. I mean, they sound really connected.
"Nomen Omen" opts for a 1980ish sonance and that's the highlight of the band and the main drive for their music which from where I'm standing proved to be the right call. Ancestral Kvltv deal very with both sonances and influences giving the fan the idea that the band doesn't need anything else. Tracks as "Munera Manibus" and "The Birth Of Earth-Born" show that the instrumentals are close related to this particular sonance. It's the vocals that give the more modern approach to the band making it a perfect match. It's not only that, tracks as "The Scroll Of The Truth" are fast and heavy enough to serve both masters. I guess…
By the way, interesting CD cover. It matches perfectly.
Ancestral Kvltv "Nomen Omen" was released on February 28th via Niflhel Records.
Track Listing:
Hyperborea
Into The Woods Whith Out End
Munera Manibus
The Birth Of Earth-Born
The Scroll Of The Truth
The Temple Of My Mind
Watch "Into The Woods Whith Out End" official music video here: