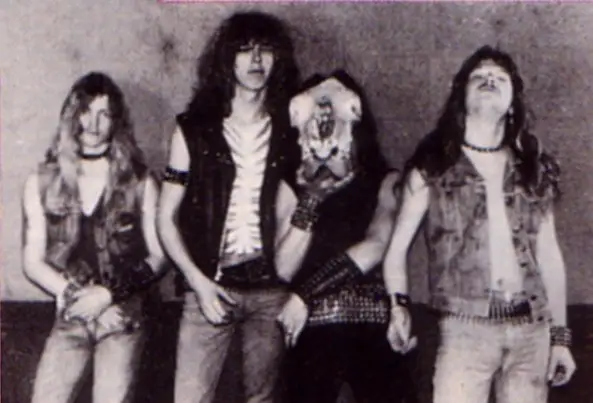 As veritable classics of German 1980s metal, ANGEL DUST's first two albums have remained in high demand and were re-issued several times. Now "Into the Dark Past" (1986) and "To Dust You Will Decay" (1988) receive the ultimate CD and vinyl treatment alongside the group's 1985 demo "Marching for Revenge" and rare rehearsal excerpts. "I think we could have a better standing today if there hadn't been any of that painful internal squabble between single members at crucial points in our earlier career," assesses drummer and founder Dirk Assmuth, who is nevertheless glad to have drawn quite a large base of loyal fans – many of which are still following the band today – during their short run until they temporarily broke apart at the end of the decade.
Having worked closely together with High Roller on these re-releases, the skinsman inevitably waxed nostalgic because given the raucous speed metal his troupe was known for right from the get-go, It is no surprise that their initial studio ventures were rather chaotic.
As history would have it, ANGEL DUST were reborn in the mid-90s and once again had a considerably creative period with a refurbished line-up and much more refined style, went on hiatus once more at the turn of the millennium ("I was basically done with it all at that point," remarks Dirk) and has been around again in another incarnation since 2016 – set to release "Ghosts," their first full-length since 2002, very soon…
Fully restored original artwork, mastered for vinyl by Patrick W. Engel at Temple of Disharmony, Cutting by SST Germany on Neumann machines for optimal quality on all levels… The ultimate audiophile edition of this German Speed Metal classic!
Read our review here.