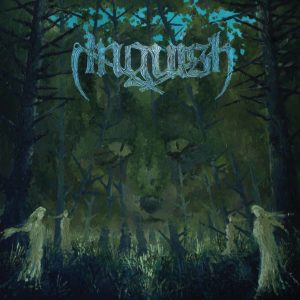 If there is a band all worthy of the label funeral doom, that is undoubtely Anguish. Most due to the straight-from-the-seven-depts-of-hell, cavernous and gloomy voice of Mr. J.Dee. Even being aware that most people do not like comparisons, and maybe some analogies, his voice is like if Motorhead's Lemmy Killmister were reanimated in Stephen King's "Pet Semetary." That makes "Magna Est Vis Suignah" doomer than all doom ever made.
Music in "Magna Est Vis Suignah" is shoegazed, slow, and, eventually, makes you shriver. There were very few moments I wrote this here. But Anguish deserve that. With all the glory. Sometimes metal singers give a cry for some change in the song, or for solos.  His cries in "Magna Est Vis Suignah" are more like Wednesday's smile, if you know what I mean. "Our Daughter's Banner" makes your bones freeze since minute one. Do you know when you go to the bathroom late at night? The same feeling.
Tracks in "Magna Est Vis Suignah" are long and there are only six of them in this full-length. It is such an irony that before them I reviewed a symphonic metal band and all their cries for life and the beauty of it. Anguish are exactly the opposite. Mankind are lost, and "Magna Est Vis Suignah" is the soundtrack of our fall. Hope died too a few moments before mankind got lost. That is everything you feel when you hear "Magna Est Vis Suignah," which is, as all metal's efforts, full of human feelings. But those feelings some will think they are ugly. Of course, they are, poor beasts! Humankind is ugly. It will take a long time to clean Earth up after our fall. If you want some happy ending stories, or some cheers up music, there is always Rihanna for you. Metal is complex as humankind, and "Magna Est Vis Suignah" is its best picture.
Track Listing:
Blessed Be The Beast
Magna Est Vis Suignah
Of The Once Ravenous
Requiescat In Pace
Elysian Fields Of Fire
Our Daughters Banner
Anguish "Magna Est Vis Suignah" will be released on January 25th via High Roller Records.
Watch "Magna Est Vis Suignah" video here: