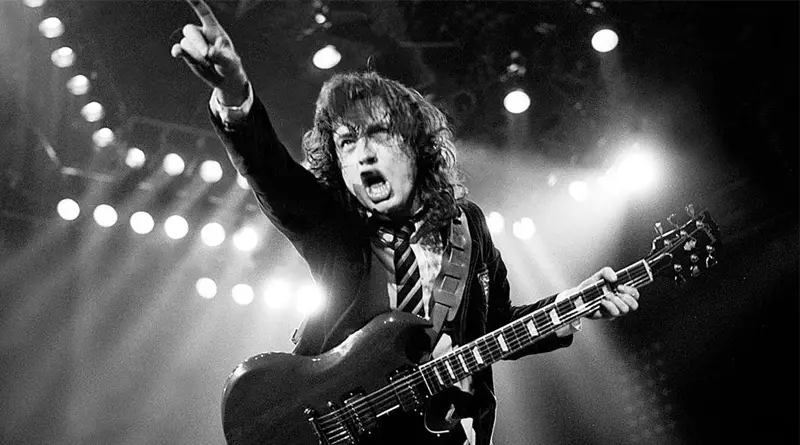 Zillion years ago I went to a friend's. I got into his bedroom and he rushed:
'Man, you gotta listen to this!'. I thought he was going to play me some new band or album, or stuff like that. He turned his pick up on (Oh, gosh! A pick up!). There was an album on it, but he could manage it so well that I couldn't see which, and then started playing. On the first notes I grumbled: 'AC/DC, man.' And he gave me that look. I replied: 'AC/DC, isn't it?.' He didn't give an answer, just got an album cover, and gave it away to me. For my surprise it was a B. B. King album (Don't ask me which, please!). Some surprise interjections after, and then he showed me that he had played it on 75 rpm. It just sounded so like AC/DC, I gotta tell you. I was sure it was Angus playing the guitar. I was 16 or 17, but this memory kept on my mind so vividly.
What led me to that misjudgment? Was I tripping? Poor judgement? Or we can simply accept that Angus is a so good guitarist that we can compare him to a faster B. B. King. I'm sure it's not that easy. I may be wrong, but I haven't seen Angus in any list of best guitar players. But we all agree that he's fantastic.
One good point to consider, and I'm sure Angus would agree with it, is that Angus Young is AC/DC, and vice-versa. It's very difficult to consider them apart. No one sees him as a guitar player, but as the band in a whole. AC/DC is bigger than he is. Or just maybe, people are paying more attention to his flamboyant playing than anything else. Many see him just as one goofy player that monkeys all around. That's not my opinion, let's set this right. I'm only pointing out some reasons why I think people don't consider him as properly as he should: as an amazing guitar player.
But what do we have to say about Angus Young guitar playing?
The comparison I made before pretty much summarizes it. Angus Young plays in a B. B. King way. But faster, and full of overdrive. He is a guitarist of old school rock tradition, the one to whom the blues was the biggest influence. Clear guitar phrasing, vivid licks, intense riffing. It can't get any simple. Angus phrasing is precise. He was gifted in a way that even a single note sounds fantastic and amazing. Pay attention to "TNT":
How simple can it get? And how amazing?
He's not a fast guitarist. Never been. But he sure can choose notes precisely. And simple.
I'd say he'd been very underrated. Don't you agree?