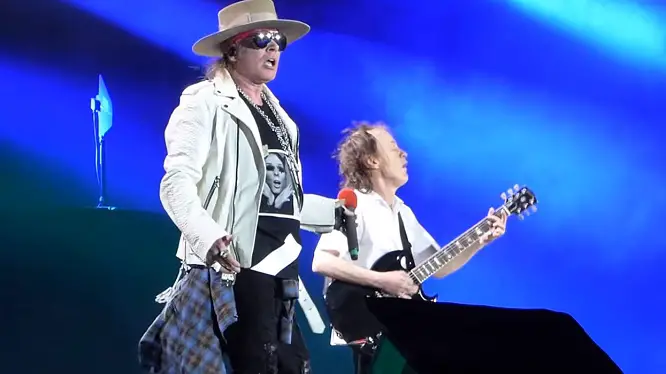 Angry Anderson, the frontman of Australian rock band Rose Tattoo, said Angus Young confirmed to him he's working on new AC/DC music featuring Axl Rose on vocals.
The singer told The Rock Pit: "I was talking to Angus earlier last year when we were opening for GUNS N' ROSES – Angus and I were asked to do the encores and I said to him, 'What are you going to do?' and he said, 'Mate I'm writing a new album.' I thought, 'Cool,' so I asked him who was in the band and he said, 'Axl.'
"Brian's not there, Phil's not there, Cliff's not there, sadly Malcolm's not there. And yes it's sad that the original lineup aren't there anymore but it's the songs, people who have supported them all the way through their career – they want to hear the songs. And in a sense we owe that to people, so really it's a debt of gratitude and what we're saying is you've stood by us, we'll stand by you.
"So Angus – and let's face it he doesn't need the money – he acknowledges that there are still millions of people around the world that want to hear AC/DC songs played live.
"In the same way, though on a much lesser scale obviously, there are plenty of people around the world who want to hear the songs that made Rose Tattoo famous. They want to hear those songs played live. And this is a lineup that can do that."
Last month, one of Australia's most respected music writers, Murray Engleheart, reported that AC/DC will continue with Axl Rose.
Engleheart wrote: "Speculate all you want but I've said it before and I'll say it again: AC/DC will continue with Axlon vocals – new album, touring, the whole nine yards. What was a massive gamble by Angus [Young] turned out to be an equally enormous triumph that has set the scene for the future."