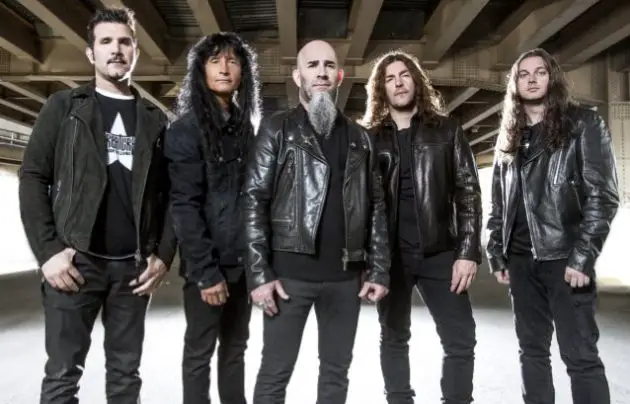 Thrash pioneers ANTHRAX, armed with an initial six dynamic SRO dates on "Among The Kings", their first UK/European headline tour in more than a decade, over-the-top rave press reviews, and hundreds of effusive social posts from fans who attended the shows, will chronicle the frenzy with a live DVD expected to be released later this year (Megaforce)!
With the energy level through the roof, ANTHRAX's show was filmed last night at Glasgow's historic venue Barrowland. Seventeen cameras, including five Go-Pros and a full-size camera crane, captured more than two hours of ANTHRAX favorites that were voted onto the evening's set list by fans and included 'Madhouse', 'Be All, End All', 'Breathing Lightning' and 'A.I.R.', followed by ANTHRAX's classic 1987 album »Among The Living« performed start to finish ('Caught In A Mosh', 'I Am the Law', 'Indians', 'N.F.L.'). In addition to the live footage, the DVD will include "fly-on-the-wall" interviews and other B-roll shot on the band's tour bus, backstage, in hotels and elsewhere.
The DVD is being produced and directed by Paul Green of the Manchester, UK-based Paul Green Productions who has filmed concerts for OPETH, THE DAMNED, Gary Numan, THE LEVELLERS, and many others.
Last year's celebration of ANTHRAX's 35th anniversary saw the band getting some of the best live reviews of its career, but the reception from British fans on this tour has been far more than anyone anticipated.
"I don't know why it took us so long to come back to the UK and headline our own tour", said ANTHRAX's Joey Belladonna, "but I'm sure glad we did. These shows have been some of the best we've ever done, and that's really due to the interaction with the fans, they've just been crazy. And that's what we wanted to capture for this DVD."
ANTHRAX plays its last "Among The Kings" UK date tomorrow in Norwich and then heads to 22 European cities winding up in Paris on March 16.
In celebration of this unique tour, fans can win meet & greets with the band (possible in every city of the tour!). To take part, they only have to follow this instruction:
01. Download and print the poster: http://www.nuclearblast.de/meetanthrax
02. Take a photo of yourself with the poster in the city where the band will be playing. The photo needs to be taken at a special/creative location such as at a famous statue/rock bar/famous landmark etc. (as creative as you can think of) and email it to [email protected] !
Good luck!