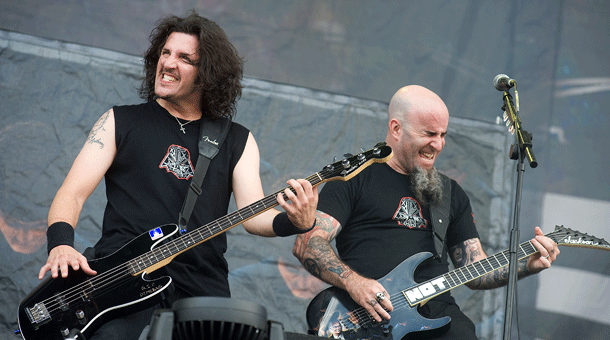 Legendary thrash metal band ANTHRAX have produced a new bourbon, "The Devil You Know", which you can buy at this location for $59.
"If we find something we really like and that we actually drink ourselves, we think maybe our fans might like it too, so we want to make it available for them," says Scott Ian.  "We really enjoyed 'Indians,' the bourbon we produced last year, and obviously our fans did as well as it sold out really quickly."
This time the band members worked with Kentucky-based Knob Creek to produce two barrels of a high-end bourbon ,"The Devil You Know," now part of the distillery's "small batch bourbon" collection.  The barrels were aged for nine years, a process that results in a richer and more distinctive taste.
"We had a great time sampling the different bourbons to find the one we thought was the best," added Frank Bello,  "And we hope our fans have the same good time drinking it. Responsibly, of course."
ANTHRAX is currently in the final stages of recording the follow-up to Grammy-nominated 2011 album "Worship Music", which is expected out early 2016.