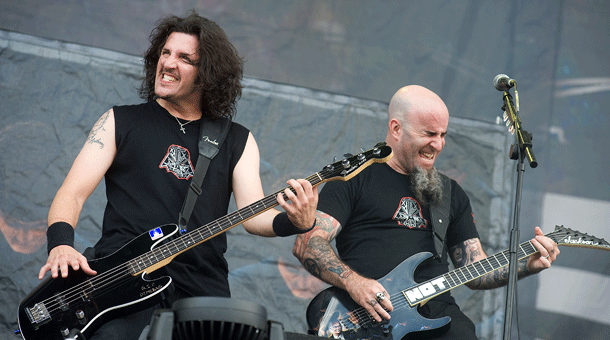 ANTHRAX will begin the set-up of its brand new album when the band hits the road late next month. First up, a six-week-plus North American trek that will include 24 dates with VOLBEAT, as well as appearances at five major outdoor festivals — Northern Invasion (outside of Minneapolis), Rock On The Range (Columbus, Ohio), Rocklahoma (Pryor, Oklahoma), and the San Antonio and Kansas City Rockfests. Dates start in Denver, Colorado on April 24.
On this first leg, ANTHRAX will play a "fan favorites" set, comprised of band classics such as "Anti-Social", "Madhouse", "Caught In A Mosh", "I Am The Law" and "Indians". The set will also feature one brand new song, "Soror Irrumator (Lords Of The Rock)", ANTHRAX's contribution to HBO's "Game Of Thrones"' "Catch The Throne: The Mixtape Vol II" which was made available on March 17 and is already getting airplay on hard rock radio. ANTHRAX's Frank Bello, Charlie Benante and Scott Ian are massive fans of the show, so having been asked to write a song for the "Mixtape" was an enormous thrill. You can hear "Soror Irrumator (Lords Of The Rock)" (and the entire mixtape) for free on SoundCloud and iTunes.
ANTHRAX's new album follows the band's 2011 Grammy-nominated, critically acclaimed "Worship Music" that featured the return of "classic era"-vocalist Joey Belladonna, was named one of the best metal albums for 2011 by countless media outlets, and provided the band with the rock'n'roll comeback story of the year. The new album is also the recording debut for guitarist and newest band member Jon Donais. "Jon's been great," said Scott Ian. "So far, he's played lead on at least seven or eight of the tracks, and they all sound amazing."
The writing process for the new album began as far back as late 2013 when Benante began exchanging suggested riffs and other musical ideas with Bello and Ian. With producer (and "sixth member of the band") Jay Ruston, formal writing sessions began last fall, culminating with about 20 original songs, almost twice as many as the band had ever brought to the recording studio in the past.
ANTHRAX started recording the new album in November last year. According to Benante, "'Worship Music' started a new chapter in our career, and it has served as an inspiration for this new album. 'Worship' was made up of a lot of different types of songs, some thrashy, some very mid-'90s ANTHRAX-sounding, but this new one is really thrashy."
Said Bello, "The thing about ANTHRAX… we have this heavy, thrashy music and Joey's powerful and melodic vocals. I love heavy music, but I also love melody, so the challenge is to blend them together so they sound like ANTHRAX, and I think we've done a really good job of that, especially on this new record."
"The lyrics I write tend to go along with the way the music sounds, and this new music is very angry," Ian added. "Lots of people said that 'Worship Music' was a return to the roots of the band… Well, this record is even more so. Unlike 'Worship Music', we wrote this new album with a lineup, with Joey in the band, and that has made all the difference in the world. Joey being a part of the band again, going on five years already, it definitely feels like a unit. Everything that was great about him on 'Worship' is there even more on this new record."
"I know that there are a lot of expectations out there for this new album," Bello admitted, "but that doesn't really affect us because we write the way we write. We're all from New York, so we love a challenge, and while I'm happy to have people say that ANTHRAX is back and that 'Worship Music' was the best album of our career, we raised the bar on this one, I think we have the goods with the new songs, and I'm proud to say that. At the end of the day, all you can do is have it come from the heart, do your best, and hope that people like it. That's what we did with 'Worship Music', and look what happened."
ANTHRAX's new album, which is still untitled, will likely be released later this year.
Source: Blabbermouth