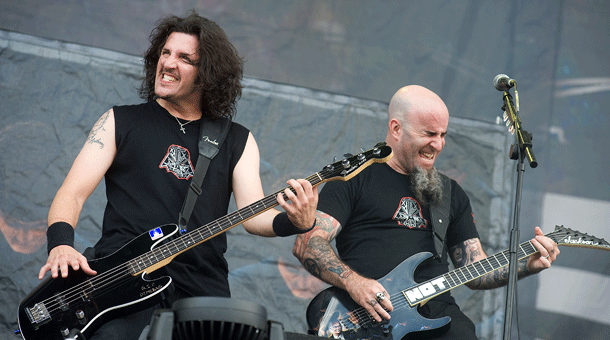 "Soror Irrumator", ANTHRAX's contribution to the the second installment of "Catch The Throne: The Mixtape", for HBO's Emmy– and Golden Globe-winning series "Game Of Thrones", is available for streaming at SoundCloud.com.
Building on the success of Volume I — with over 2.5 million streams to date — that attracted hip-hop and reggaeton fans alike, "Volume II" of "Catch The Throne: The Mixtape" also features MASTODON, KILLSWITCH ENGAGE, MUSHROOMHEAD, Method Man, Snoop Dogg and Yandel. The mixtape was released in anticipation of the season 5 debut of "Game Of Thrones", airing April 12 on HBO.
Produced by Launch Point Records, the 15-song mixtape features diverse artists representing "Game Of Thrones" families, leveraging themes and highlights from season 4. Showcasing the importance of music in "Game Of Thrones", each song on the mixtape samples music from the show's season 4 soundtrack. This year's mixtape also weaves in the overarching theme of fire and ice, providing listeners with an exciting lineup of heavy metal and hip-hop artists.
Scott Ian, founding member of ANTHRAX, told Finland's Kaaos TV: "[Our contribution to the mixtape] was a song we had already written [for our next studio album]. We didn't have time to start writing something brand new from scratch. We listened to all the material we had and made the decision. That one just… We all thought the same thing. Everybody listened to the demos and we all had the same idea that this one demo just sounded like that should be the song for 'Game Of Thrones', so it was a pretty easy decision. The lyrics weren't written yet, though — we only had the music — so then [the show producers] said you have to pick something about the show to write about. And I got to write about exactly what I wanted to write about [the Lannister family], so I was very happy about that."
He continued: "It was a really fun thing for me to do, because I'm such a massive fan of the show. So are Charlie [Benante, drums] and Frankie [Bello, bass] — they're really big fans. So it was just something really exciting that we got the call to do that. And we were, like, 'Yeah!' A lot of times you get calls for things, and it's kind of, like, 'Naaahhh. Just say no.' But this we were very excited about."
Source: Blabbermouth